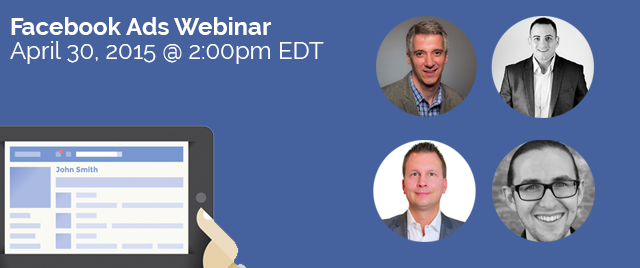 This month we will be hosting our 4th webinar in our 2015 Digital Marketing Webinar Series! If you've ever been interested advertising your business on Facebook then this is the event for you. Make sure to reserve your spot today before it gets completely filled up. If you can't make it to the live show, register anyway and we'll be sure to send you the recorded version.
The Details

Topic of discussion: Why Businesses Need to Use Facebook Ads
Date & time: Thursday, April 30, 2015 at 2pm EDT / 11am PDT / 7pm GMT
How much: our webinars are free, but hurry and reserve your spot before it's too late.
Bonus: If you missed last month's webinar "How to Create Landing Pages that Actually Convert" with Oli Gardner, Peep Laja, Hunter Boyle and Brian Massey you can catch up with our on demand archived version of it.
Guest Speakers
Matthew Stradiotto
Co-Founder Matchstick | Twitter
Matchstick is an independent social media marketing agency that has launched campaigns for adidas, Microsoft, GE, Coca-Cola, L'Oreal, Starbucks, Molson, Chrysler, and more global brands. Matthew has over 18 years of strategic marketing experience.
Lasse Rouhiainen
International Speaker and Leading Authority on Social Media & Video Marketing | Twitter
An international leading authority on video marketing and social media, Lasse is also the author of "101 Video Marketing Tips and Strategies for Small Businesses" & "Smart Social Media."
Michael Brito
Head of Social Strategy at WCG | Twitter
Michael is a social strategist, author, adjunct professor, and avid 49ers and Lakers fan with over 15 years experience helping organizations solve marketing challenges.
Rocco Baldassarre
Founder of Zebra Advertisement | Twitter
Rocco Baldassarre is a digital marketing consultant, speaker, and entrepreneur. He founded 1DollarAd, International-PPC.com, and the award winning agency Zebra Advertisement. He is best known for being a Google Partners All-Stars Winner.