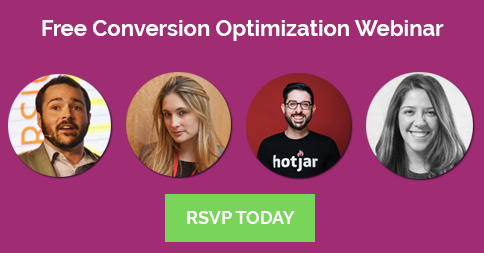 This month we will be hosting our 6th webinar in the 2015 Digital Marketing Webinar Series! We gathered up 4 conversion rate optimization guru's for you to discuss CRO strategies that will give you an unfair advantage in doubling your leads. In this webinar you will learn about a/b testing, calls to action, conversion funnels and multivariate testing.
Make sure to reserve your spot today before it gets completely filled up. If you can't make it to the live show, register anyway and we'll be sure to send you the recorded version.



The Details
Topic of discussion: CRO Strategies That Will Give You An Unfair Advantage In Doubling Your Leads.
Date & time: Thursday, June 25, 2015 at 2pm EDT / 11am PDT / 7pm GMT
How much: Our webinars are free, but hurry and reserve your spot before it's too late.
Bonus: If you missed last month's webinar "Optimizing Emails for Lead Generation Success" with Lincoln Murphy, Tommy Walker, Jordie van Rijn and Tim Watson you can catch up with our on demand archived version of it.
Guest Speakers

Talia Wolf
As CEO of Conversioner, Talia helps businesses build and execute their conversion optimization strategies, using emotional triggers and user behavior data to generate more revenues, leads, engagement and sales
Dr. David Darmanin

David is an entrepreneur and consultant that has generated hundreds of millions of dollars for small to large businesses over the last 12 years. He has ran hundreds of tests for his clients… across 19 languages, 12 currencies and 13 industries.
Justin Rondeau

Conversion Optimization Manager at Digital Marketer | Twitter
Justin's goal is to inspire and educate more marketers to optimize their email campaigns, social campaigns and web sites via testing. He has run hundreds of tests and analyzed 2,500+ tests across virtually every industry.
Tiffany daSilva

Tiffany has spent the past 10 years working in all facets of online marketing at companies like Geosign, Achievers & Shopify. Tiffany's experience has exposed her to over 300 websites while managing multi million budgets.