It wasn't too long ago that ranking locally meant NAPs – create a lot of citations and make sure they're relevant and consistent with what's listed on your site. For a few years that was the the go-to strategy for local search. But ever since Google's Venice update, Local SEO has changed and search has become far more personalized and far less dependent on the amount of references to your company's postal address. Now it's just as important for your landing page to provide these signals. By the end of this post you should have some actionable insights towards creating, optimizing and succeeding with local landing pages.
But First: Implicit vs. Explicit Searches
To understand this concept it's first important to be aware of the distinction between implicit and explicit searches. This has to do with the intent of a query and is the idea that while some searches may not contain geo-modifiers (e.g 'city + query) that they may still have a local intent. Google's Geospatial technologist, Ed Parsons summarizes this pretty succinctly: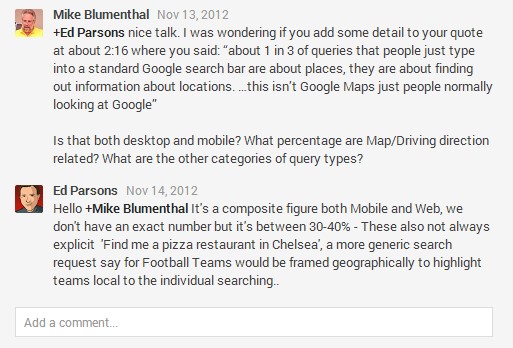 The idea being emphasized here is that more often than not people are looking for locally relevant information, and even if they don't explicitly specify that location Google will often try to serve up results with a focus on the location relevant to the searcher.
Determining keyword intent is another topic entirely, but to help visualize this concept, compare the search results below for the term 'business card printing' versus 'toronto business card printing'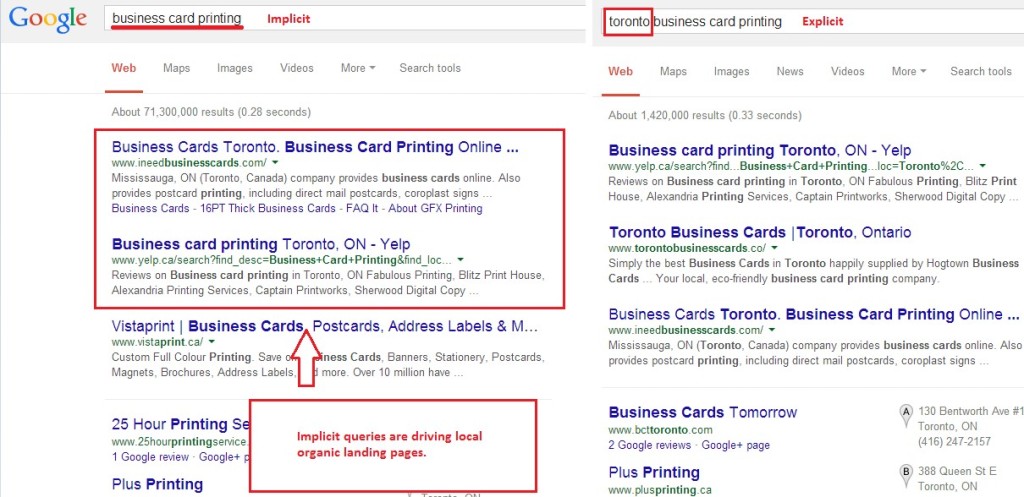 Even though the implicit search doesn't specify a location Google realizes I'm in Toronto, and is serving me organic results with a local focus. Likewise an explicit search will return both the local 7 pack as well as local organic results – but you'll notice with an explicit search that there is far more emphasis on returning locally-relevant pages.
The point of all this preamble is simple. Businesses need locally targetted landing pages to capitalize on the opportunity to rank both within local results as well as within organic results. But simply creating local landing pages isn't enough, they need to be optimized for local search and the tips below will get you well on your way to a proper local search strategy.
Site Architecture and Page Hierarchy
Before you can focus on the on-page elements of your local landing page you need to ensure your site is local-ready with a structured, logical architecture in place. If you operate multiple facilities, group store-pages into city-level subdirectories making them easy to find by both crawlers and humans.
An ideal multi-facility site architecture will be intuitive enough that a user can modify the URL to get to a different city page. We do this pretty effectively with our client Public Storage. All cities have their own subdirectory that follow the format http://publicstoragecanada.com/self-storage-city/. 'City' can be replaced with the name of almost every major Canadian city to find the facilities within those locations.
We've also created dedicated landing pages for each facility which follow those subdirectories – so the landing page for one of their Toronto facilities would look like: http://publicstoragecanada.com/self-storage-toronto/24-jefferson-avenue/.
In this specific scenario, we are using Javascript to display a dynamic map of Canada which isn't the most search engine friendly approach so to combat this we recently added a text sitemap page to the site to ensure that these city pages are as easy to crawl as possible from the root domain. So our site architecture ends up looking something like this: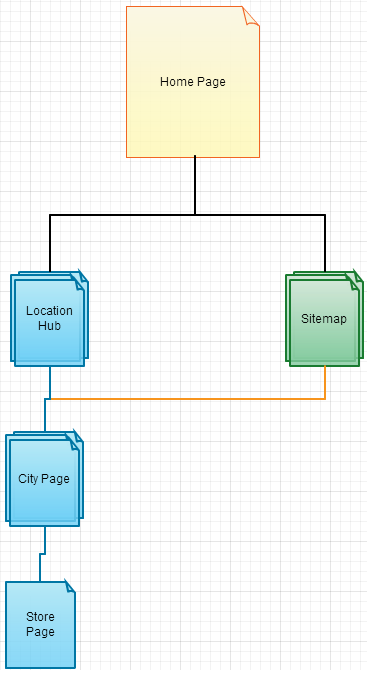 For more on the importance of dedicated landing pages and crawler-friendly internal linking check out this blog post by Google's Matt Cutts.
Localized Meta Data
With a logical architecture in place, the next most important thing you can do is to provide localized meta data on your page. This means title tags, URLs, descriptions and ideally, schema markup. Title tags should include the name of the region you're targeting as well as the product or service. In most cases high volume keywords will follow along the lines of 'product/service + city' or 'city + product/service' (be sure to do your keyword research!)
Much like in my example above with Public Storage, you should also be targeting the region in your URL. While this isn't mission-critical it does provide that extra hint to search engines that this page is related to a specific geography. At the end of the day we want to do everything we can to suggest our location to search engines (without spamming, or keyword stuffing!)
Having unique location specific descriptions means that, more often than not, Google won't need to re-write your descriptions for you. If an explicit search returns your web page and the description has already been optimized for your target keywords it will likely be the description of your choosing that gets displayed for those queries and not the description or on-page content that Google feels is most relevant to the search.
Finally. use schema to markup your address. and contact information. This makes it possible for you to get unique little snippets like those you see in the screenshot below.

It also means that you're readying your landing pages for the inevitable future in which search engines and third-party applications use this markup to display information to mobile users.
Unique Location-Specific Copy
This is probably the most difficult part about creating local landing pages – creating unique, relevant and helpful content that is specific to that location. What you're able to write about on these pages varies by industry but regardless of industry this can get substantially more tricky when you're dealing with a business that has dozens, hundreds and especially thousands of locations. With a little bit of creativity though, it can be done!
Start off by thinking about what city specific information is relevant to your page – are you in real estate? Talk about population, the economy, community safety, crime rates, the housing market, etc. Hotel? Tourist attractions, city history, entertainment and nightlife etc. The opportunities are endless, you just have to think about what's relevant to a user, and not just how to satisfy the demands of search engines. In other words, the goal here is not just to stuff your page with mentions of the city but to think about aspects of the city that are relevant to your product or service.  Once you start thinking like this the content you create becomes far more meaningful and as an added bonus allows for a lot of city-specific mentions.
With Public Storage we had to do this on both a city and store-page level. With 55 locations and 28 cities this meant 83 pages of location-specific content. The value that's come out of that has been remarkable, but we'll save that for a case study;)
Some more ideas around unique copy for location pages:
How long has the business been serving the city?
How are you involved with the community? Any sponsorships? Events? etc.
How long have your local customers been with you?
Can you talk about how your customers use your product or service in and around the area?
What about the management team? Tell your customers about them!
How high is demand for your product or service in the city? Why?
Creativity is the key here!
Property/Region Specific Reviews
I separated this out from location-specific copy because in addition to fulfilling that role, it also acts as social proof, making potential customers more likely to convert. There's not much that can be said here other than that these things are powerful. We saw conversions jump by as much as 116% simply by adding user testimonials to our landing pages. At the very least local reviews contain geo-specific content that helps bolster the content/html ratio on your page. Don't sleep on reviews!
Internal Links
Intelligent internal linking throughout your site is critical to ensuring you are optimized for search engines. Not only does this help 'juice' to flow throughout your site, it also creates relationships between location pages and city subdirectories. A very simple way to do this is to link to all locations within a city from within any given store page. On Public Storage that looks like this: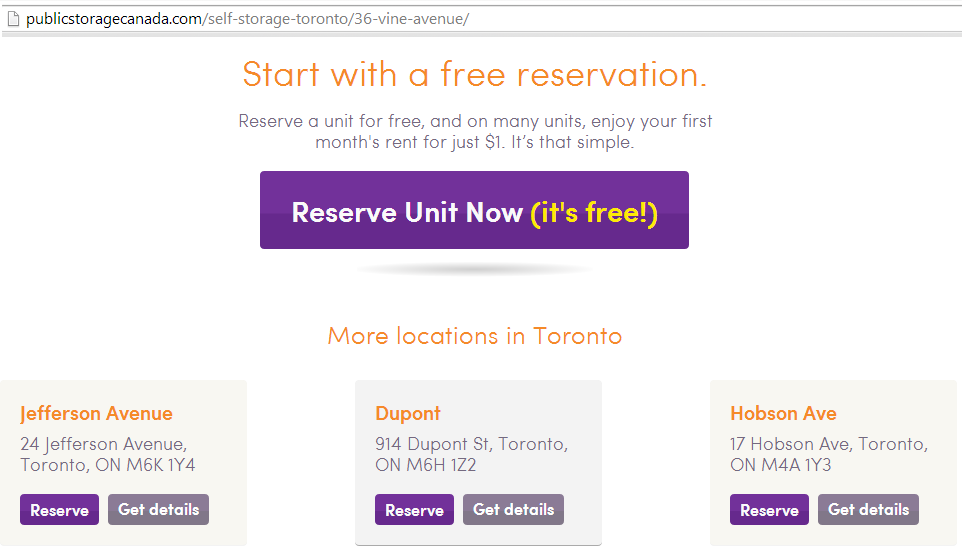 Location-Specific Rich Media
Finally, rich media! This is the fun part – at least for the photographer in me. This is where you get to take your DSLR out (rent one for $20 bucks – it's well worth the investment!) And get creative with different angles, and perspectives that highlight your business and show off your products, people and talent! If you want to go the extra mile. you can contract one of Google's 360 virtual tour vendors. These are approved vendors who will create a streetview-style walkthrough of your business which you can then embed on your site.
Similarly, client testimonials, messages from management, and product demos can be leveraged to create video assets which can then be embedded on your page.
Can Your Customers Find you in their Areas?
Get in touch with us for a full audit to determine how you can improve your site to target local audiences. Also be sure to check out our popular list of local citation sources (US only for the time being.)
What other landing page tactics are you using to super charge your local strategy? Leave your ideas in the comments below. I'll feature some of the great ideas in an upcoming round-up post!