It's no doubt that businesses from any sector could use some content marketing magic. If you still believe that your business is in an industry that could only benefit from traditional marketing- think again.
What the Statistics Say
"91% of B2B companies use content marketing. 86% of B2C companies use content marketing." (Content Marketing Institute)
A majority of both B2B and B2C companies are devoting time and resources into content marketing. This essentially means that if you're either a B2B or a B2C company (which I'm assuming you are) and you're not using content marketing, you may be losing out on a lot of leads.
"70% of consumers say content marketing makes them feel closer to a company." (Content Marketing Institute).
Marketing isn't just advertising- it's a way to build relationships with your customers. Through content marketing you can show your customers that you're not just there for their money. You're there to educate them through your expertise and show them that you really care. By providing content that is valuable to them, you can make your customers feel a stronger connection to your company.
"61% of customers are more likely to buy from a company with content marketing." (Content Marketing Association)
Content marketing not only allows customers to better connect with your brand, but it generates results. By building and nurturing a relationship with your customers through content marketing, you build trust between you and your customer. Customers are more likely to do business with companies they have established trust with, and content marketing can help you do that.
" Creating original content was seen as the biggest challenge for 69% of content marketers." (Curata)
The previous statistics were probably enough to convince you that content marketing is effective. But how do you go about creating original content that your audience will love? This is a problem for 69% of content marketers who understand the importance of creating great content, but lack the ideas or resources to do it. Keep reading to find some awesome ideas to develop content tailored for your audience.
Types of Content
Before diving into specific content that works for your sector, I'll provide a general overview of the different content types that you could use to market your company.
1. Blog Posts
Blogs are the number one way to deliver content to your audience. By setting up a company blog, you can share your insights on the industry and allow customers to communicate and ask questions through commenting. Also look for guest blogging opportunities that allows you to establish authority and reach a new audience.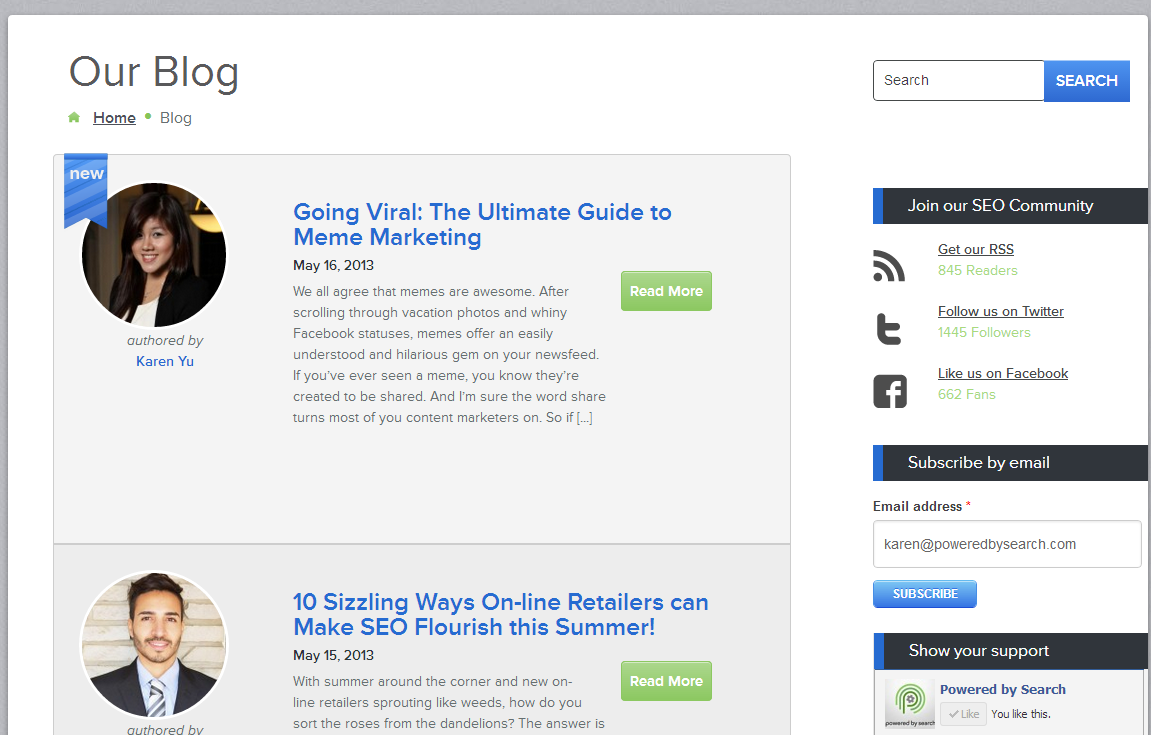 2. Whitepapers, Guides, Ebooks
Whitepapers, guides and ebooks are how-to content that provides your customers a comprehensive guide on topics in which you have expertise on. Not only do customers benefit from your guides, but they will perceive you as an expert in your industry.

3. Images
You don't need to provide text only content that takes a long time to produce. Quick images of your company culture, your products or even graphics with interesting quotes or facts can provide customers with visual content they'll love.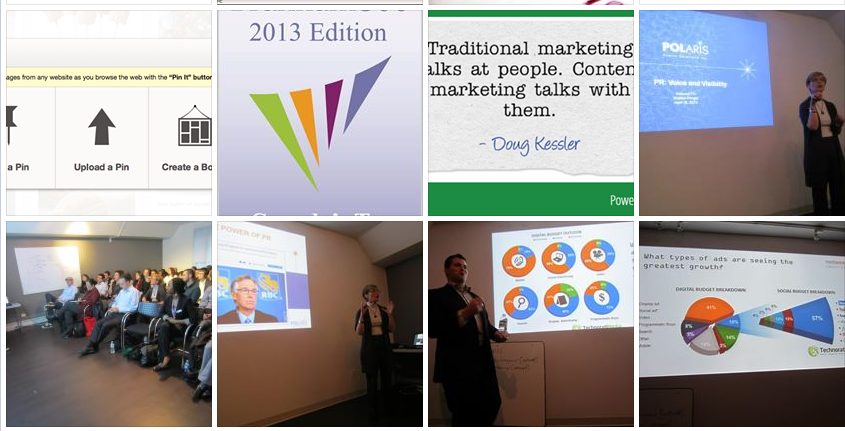 4. Infographics
Infographics combine both information and visual elements, creating a powerful tool to convey information and ideas to your customers. Not to mention-they're also a lot of fun to read! An example of an infographic will be coming up soon.
5. Memes
Memes are typically photos with hilarious captions that have the potential to go viral. They demonstrate to your customers your sense of humour, and allows them to better connect with you. Check out Going Viral: The Ultimate Guide to Meme Marketing for a more comprehensive guide in creating memes for marketing.
6. Videos
Why stop at images? Videos serve as an ideal platform to provide how-to seminars, conduct an interview, introduce new products or services or even to portray your company culture.
7. Webinars
Webinars are a great way to educate your customers and allows them to ask you questions in real time. You can also save the webinar and offer it as a resource later on.
8. Email Newsletters
In recent years, emails  seem less prevalent due to the emergence of social media. However, emails are still the best way to personally connect to your customers. By sending email newsletters to your customers you are maintaining constant communication with them.
9. Case Studies
Case studies are a great way to show customers what you've done in the past, and what you can do for them. Write a case study of the challenges you faced, your solutions and the outcomes. Check out an example of a case study here.
10. Contests
Contests are a fun way to convey a message to your customers, encourage engagement, and provide customers something fun to be a part of. You can even host a contest on social media asking them to share your content, in exchange for a chance to win a prize.
Creating Content Tailored To Your Audience
Now you know the basic types of content you can use to engage your audience. However- not every  type of content works for every type of business. It's all about tailoring your content in order to reach your target market, rather than providing a high quality and quantity of content that isn't at all relevant to your customers. For example, if you're a business in the finance sector, you should come off as professional and formal. You're likely not going to focus your efforts in constantly posting memes if your customers are not looking for content of that nature. On the other hand, if you're a retail company selling a fun and trendy product, you're likely not going to focus your resources on providing long and comprehensive guides about your industry. This infographic gives you some ideas of what type of content you can provide depending on what sector you're in:

Powered by Search has worked with clients from a lot of these industries and here are just some ideas that we have come up with or have used in the past.
Finance:
Finance is a serious matter. Unfortunately, finance has always been frustrating, confusing or difficult for many people. By providing professionally developed content that helps customers through a frustrating process, you are building a sense of trust and appreciation for your company.
Approach: Formal and Educational
Retail:
Retail and consumer packed goods are often products that customers purchase to enhance their lives. Retail companies generally like to give off a fun, interesting and unique persona. By providing interesting content such as images, memes, blogs and giveaways you are positively promoting your brand image to your customers. You can also then be helpful by providing product demonstrations and email newsletters.
Approach: Casual and Informative
Travel:
Travel is for those who enjoy exploring new and interesting places. You don't want to bore your customers with your content, but rather, excite them and entice them to go explore the world. Write blog posts and post pictures of interesting travel destinations, provide interesting travel maps that can educate them about different places and maybe even do a trip giveaway to engage them.
Approach: Casual and Interesting
Auto:
A person's car often defines who they are and is something they interact with on a daily basis. Provide interesting visual content that attracts your customer to your product. Also provide them with guides in car maintenance that will help them get along with your product in the long run.
Approach: Casual and Informative
Technology:
Technology is seen as a sleek and modern industry that is constantly changing. By providing customers industry news and how-to guides, you are able to educate your customers in an ever-changing industry.
Approach: Casual and Informative
Education:
An educational institution is a place where students will spend most of their time, and you want to convey a positive experience to them. As a formal institution, it's important to maintain an overall professional image of your institution. But remember-these are young minds entering your institution. Portray a fun experience to them through student blogs and fun videos.
Approach: Professional Yet Fun
Real Estate:
Like finance, real estate can be a frustrating and difficult process for most customers. Aside from just providing real estate services, guide them through the house selling or buying process. Provide real estate guides or even some fun home design widgets. Check out what our client, RE/MAX does to engage and educate their customers.
Approach: Professional and Casual
Legal:
Customers value trust the most when looking for legal services. Show them why they should trust you by providing helpful guides, case studies and testimonials from past clients that you have helped.
Approach: Formal and Educational
Use this infographic as a source of inspiration when you're developing original content for customers in your unique sector. So go forth, do some awesome content marketing, provide value for your customers and develop real relationships and results!
What are some of your favourite types of content? What sector are you in, and what works for you?

Content Marketing Across Different Sectors – An infographic by the team at Powered by Search
Embed Content Marketing Across Different Sectors on Your Site: Copy and Paste the Code Below

Content Marketing Across Different Sectors – An infographic by the team at Content Marketing by Industry