Google's new local inventory ads put searchers one click away from your inventory, at the exact moment they want to buy it.
The new local inventory ads display your products to people who are searching nearby. Then, with one click ("Search items at this store"), searchers go to your Google-hosted page where they can view inventory, view store hours, get directions, and more.
"When we asked people to describe the role smartphones play in their lives, they used phrases like 'attached to my hip', 'butler and 'lifeline.' Smartphones have become the companion that people turn to in I-want-to-know, I-want-to-go, I-want-to-do and I want-to-buy moments throughout the day," said Google in their blog to announce the updates.
They added the new local inventory ads, "encourage consumers to explore your store before they even arrive, we're adding new features like special offers and the ability to browse product inventory."

What This Means For Local Traffic
The battle for local business is fought on a local customer's smartphone. Everyone is constantly jockeying to be the answer when someone asks their mobile, "Where can I find ____."
The new local inventory ads are an interesting twist, as mobile browsers are now empowered to pretty much make the entire purchase decision from their phone, by being able to sample a product's look and feel without having to step into your store.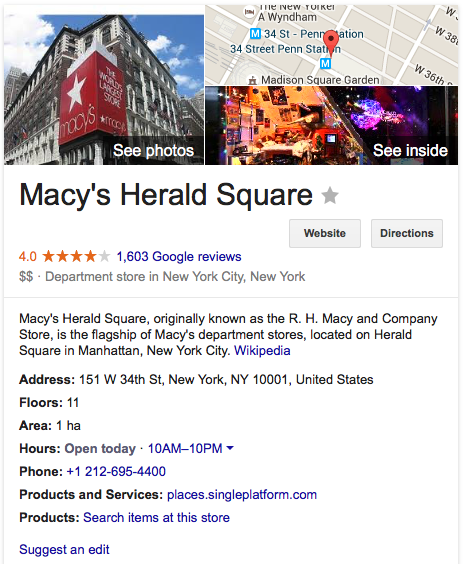 "As far as marketing strategies are concerned, this new feature adds one more reason why business owners and digital marketing agencies can no longer consider Local SEO without considering an AdWords strategy as well," said Colan Nielsen, Agency Operations Manager of Powered by Search
"With this update, and some of the other recently announced updates about the Google Local 3-Pack, the era of total separation of organic and paid results is coming to an end."
Where Will You See Google's New Local Inventory Ads?
The changes were announced in May by Google, and were recently noticed and captured by Nicolai Helling in Germany. At the moment, local inventory ads are currently also live in:
The US

The UK

France

Japan

Australia
The new features are being rolled out on both desktop and mobile for a select number of retailers, and thus far some major retailers such as Ikea and Macy's.
How is your local Adwords strategy performing? Want to get more from it?
[lmpromo]