How To Determine The Commercial Intent of Keywords
Last updated: August 12th, 2014
Learn how to determine the commercial intent of keywords without getting a headache or wasting your energy and resources. Imagine if right now, at this VERY moment, someone told you that the next 7-9 months of your life would be a complete waste of time (other than a learning experience). Would that bother you? Probably eh? Yet, this is exactly what most people do when they focus on building out their website for the first time. Hopefully this mistake isn't something that gets repeated very often.
Having a website that ranks very well is a great accomplishment but what good does it do for you and your online business if it produces a goose egg in terms of revenue? ($0)
In order to effectively plan and execute your website's strategy, you need to have a roadmap. That roadmap should contain valuable keywords (cash producing commercial keywords) that will populate the tree-structure/flow chart of your site's content. Of course, if the goal of your website is NOT to make money, this does not apply to you. For the majority of webmasters however, we need to take into consideration a few factors such as:
Employees
Web Design Team
Sales Staff
Lost Time
Revenue
Investment Costs
etc..
For companies and organizations with a big financial backing, the initial investment being poured into a website is not a problem. This is more of a problem for you one-man/woman shops out there, trying to do SEO on your own and on a tight budget. So listen carefully!
Types of Keywords
There are a few categories of keywords/keyphrases. We can group these into three main sections. They are:
Informational
Informational keywords make up the majority of internet searches being done. They include all kinds of intent within the "free" category. From general research to online news reading/browsing to looking at funny memes, this is the information category. Can you make some cash with these keywords? You can, however your site would need to have a lot of traffic and be very well monetized with proper ad-placement.
Navigational
Navigational searches can be split into informational and transactional (which is our 3rd keyword category up next) search intent.
As the name implies, navigational related searches are for users who are seeking something out. That "something" could be a product but it could also be the URL of that hilarious cat meme they were trying to find for a friend. The task is for YOU to figure out what that intent is (shown below). All it requires is a bit of common sense and some market analysis.
Note: If your website can capture the traffic of both navigational and information related phrases (in addition to the "buying" keyphrases, then you have done a very good job covering the entire buying cycle. This will put you in a great position/advantage for monetizing the entire platform of "search" for your industry.
Transactional
"Cash monaaaaaay" is what this category is all about. These are the phrases you want to focus the majority of your attention towards when it comes to SEO (and all their derivatives). Transactional keywords include words such as:
keyword + buy
keyword + coupon
keyword + deal
keyword + review
keyword + model #
keyword + compared
keyword + shipping (free shipping, etc.)
keyword + cheap
keyword + quote
keyword + newsletter
keyword + download
etc…
Someone searching for a specific brand or model number is far more likely to purchase versus someone typing in "keyword + comparison", even though the comparison keyword is also considered a commercial-intent phrase. This is where you have to place yourself in the shoes and mind of the end-user.
If you were going to purchase a specific brand of TV and had decided on a particular model, what kind of search would you conduct? It would probably be something along the lines of:
Samsung Model # Review
Toshiba Model Name Discount
Sony Model Name/# Pros Cons
etc..
As I'm sure you'd agree, ranking for these phrases would be far more effective than ranking for phrases such as:
Digital TV
LED TV
TV Brands
While this second batch of keyphrases has much more in the way of volume, they don't offer the user specific details. This would place this second set of phrases into the "informational" or 1st stage of the buying cycle. As mentioned previously, if your site was able to capture all sets of the buying cycle – that would be ideal.
Once you understand this concept, it is time to cross reference phrases you have picked out with the market.
How To Determine The Commercial Intent Of Keywords – Steps 1-5
We are now going to take a look at what is going on in the industry and see if people are even willing to advertise on our chosen keyphrases. If no one is willing to pay or advertise for the keywords you have in mind, you better think twice about spending your hard earned cash and time trying to rank for that term. You either found a really lucky golden-egg or the next few months of your life are going to be miserable.
Keyword Planner
The easiest way to determine commercial intent of keywords is by looking at Keyword Planner. This free tool from Google will give us a good amount of data to work with. Let's begin.
#1
Log into your Adwords account (free to sign up) and head to the tools section: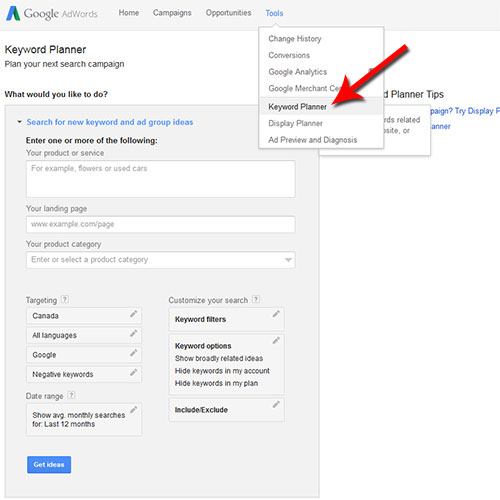 Select the parameters that fit your site's target market and intent. The country, keyword filters and other options here are entirely up to you. In this case, I am targeting Canada and showing all related ideas for the example term of "insurance quotes".
#2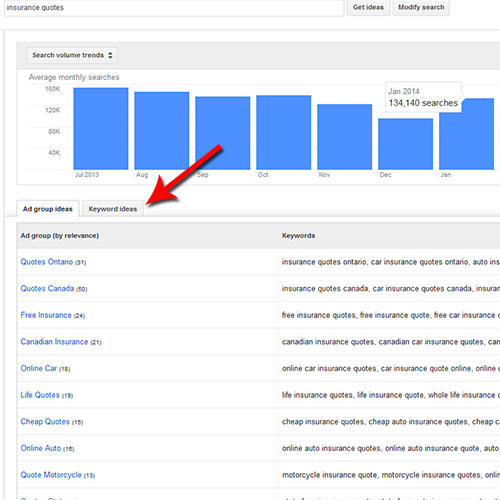 You can see that by default, the page Google returns shows the Ad group ideas. This is not what we want. Click the tab next to it saying "Keyword ideas".
#3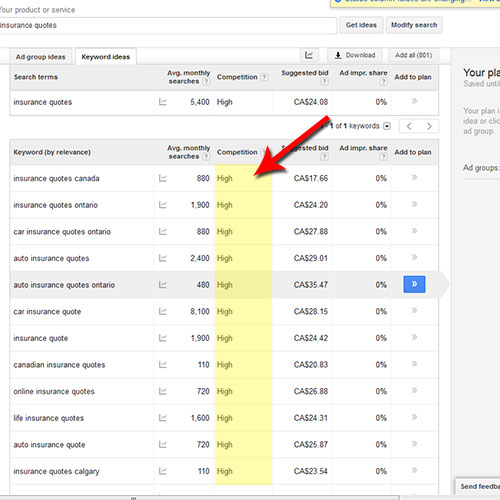 The Keyword ideas tab is where our precious data resides. There are a few factors to look at here. They include:
The average monthly searches being conducted
The competition (Note: This is PPC competition, not organic)
The estimated bid costs
These three factors are all we really need to determine if a particular phrase is a "money" phrase. Please use some common sense here while going over all of the terms. Your ideal phrases will have a high monthly search count, high competition and a high bid price.
Analytical Data
#4
If you would like to cross-check your findings with other sources, there is no better place to go than your website's analytical program. Be it Google's or some other provider, there is valuable data to be had by looking at historical data to your site. Hopefully you also included some kind of goal tracking into your website, so you have a record of what keywords and phrases have turned into "leads" or "buyers" or "whatever-you-want-here".
For Google Analytics, browse to Search Engine Optimization –> Queries. You will see a list of search phrases (tailored to your site) similar to the image below: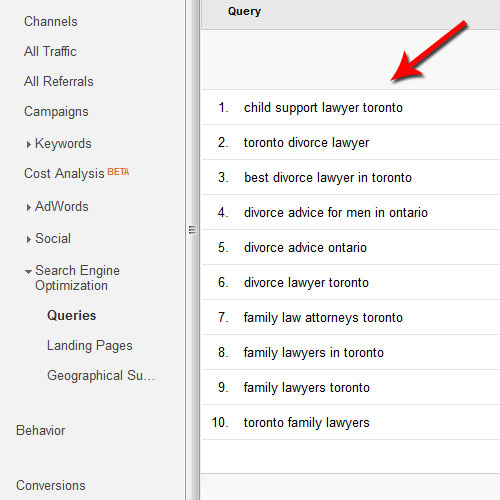 The idea here is to generate more ideas for your "commercial intent keyword basket". Don't rely solely on the Keyword Planner that Google provides. Use ideas from your analytics, your paid campaigns, your own mind and friends' word of mouth, etc..
#5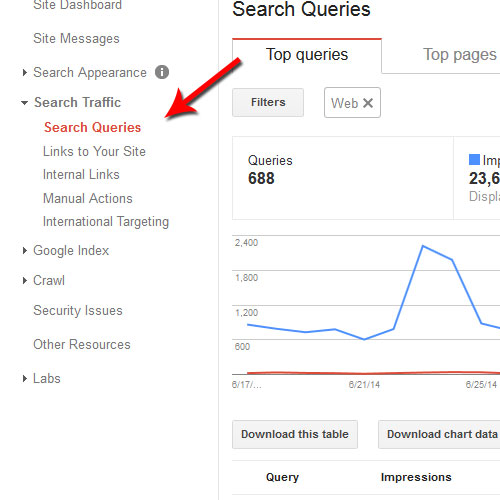 Last but not least, we have the search queries shown to use inside Google Webmaster Tools. This data will probably overlap a good deal with your analytical data and keywords chosen…. but that's okay. The more cross-reference checks you can find, the better it is in favor of the commercial intent (if the keyword showed commercial intent in Keyword Planner).
Running a business and trying to manage your website at the same time can be quite a daunting task. Are you strapped for time? Do you need someone to help guide you and show you the ropes in a step-by-step fashion? Send me a message today or get in touch with us right away. The longer you wait, the more your business is going to suffer against the competition that knows how SEO works.

What you should do now
Whenever you're ready…here are 4 ways we can help you grow your B2B software or technology business:
Claim your Free SaaS Scale Session. If you'd like to work with us to turn your website into your best demo and trial acquisition platform, claim your FREE SaaS Scale Session. One of our growth experts will understand your current demand generation situation, and then suggest practical digital marketing strategies to double your demo and trial traffic and conversion fast.
If you'd like to learn the exact demand strategies we use for free, go to our blog or visit our resources section, where you can download guides, calculators, and templates we use for our most successful clients.
If you'd like to work with other experts on our team or learn why we have off the charts team member satisfaction score, then see our Careers page.
If you know another marketer who'd enjoy reading this page, share it with them via email, Linkedin, Twitter, or Facebook.