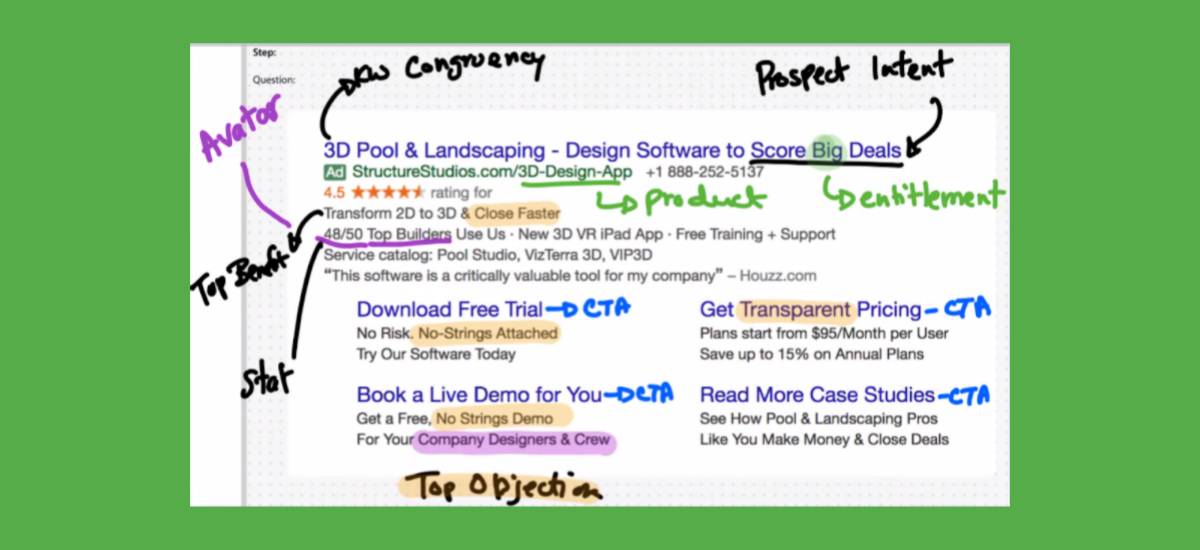 When B2B SaaS companies struggle to succeed running Google ads, they tend to frame it as a problem with budgets and targeting.
Don't get us wrong: these elements can be factors.
But there's another piece to the puzzle that we think deserves more attention: ad creative. 
Here's why:
From an emotional standpoint, ad creative is your first contact with newcomers to your brand. First impressions matter. You don't get to make them twice.
Second, it's important that your ad creative aligns with the intent of your potential prospects. Remember that Google keywords can indicate unique kinds of intent. Despite this, most companies tend to serve the same kinds of creative to their target audience, regardless of what they're searching for.
And finally, if your creative features irrelevant imagery or messaging, your target audience is less likely to click. That can lead to a lower click-through rate and a higher cost per click, which both signal to Google that your ads aren't relevant to its users.
But many of these problems are avoidable with better ad creative. You just need to make ads that align with the pain points that your SaaS business solves.
Your ad creative has to speak to the frustrations and wants of your target customers.
In this article, we're going to share some of our best practices for designing Google Ads creative for B2B SaaS. You will find out how to make creative that engages and converts prospects into qualified leads for your business. Some of the lessons you will learn include:
A detailed breakdown of a Google Search ad for one of our clients, Structure Studios.
Why it matters to make creative that matches specific keywords, plus how to execute.
Three visual elements you need to test when creating Google Display ads.
What it means to write buyer-centric copy and how to craft it.
We help B2B SaaS companies maximize growth through paid media like Google ads. If you'd like to find out more how we can help your business, schedule a Free SaaS Scale Session.
If you prefer to listen to this blogpost, here's a recording:
The Winning Elements of Effective Ad Creative on Google Search
To design ad creative for Google search that works, first consider the outcome you want to achieve. Think about the actions you want to drive from the people clicking your ad.
A few examples include:
Signing up for a free trial.
Scheduling a demo of your software.
Downloading a lead magnet.
Knowing these desired actions lay the foundation for everything else you do with your search ad creative. Once that's settled, you can then move onto these several other elements, one-by-one, to design an effective Google search ad:
Incorporating most or all of these elements can help you create a search ad that's well received by your target audience.
We'll examine each one below through the lens of an ad we made for one of our clients, Structure Studios. The outcome they wanted was to drive more free trial sign ups for their pool and landscaping design software.
Here's what their ad looked like: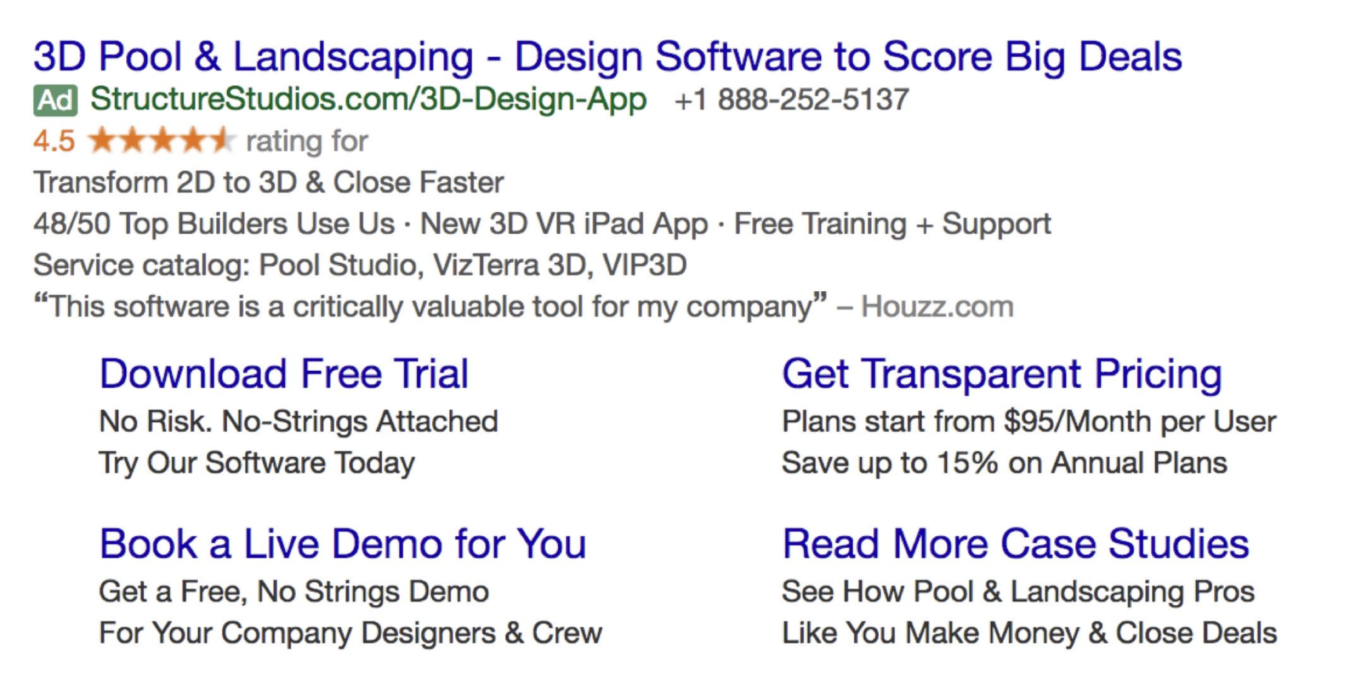 1. Avatar
Who is your ad for? As you start this process, you should have an idea of your customer avatar — the people that your SaaS product serves best.
If you haven't yet dialed that in, then we recommended you figure that out first.
This article we wrote about SaaS buyer personas can give you some direction.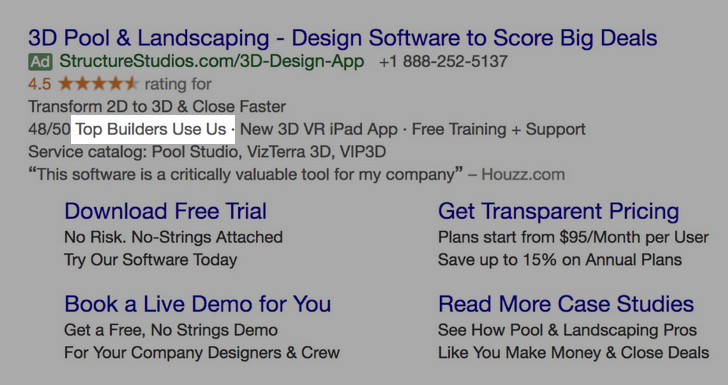 In the case of Structure Studios, you'll notice that the phrase "top builders" appears in the subheader of their ad. We didn't need to call them pool builders because we already included verbiage about pools in a handful of other places in the ad.
Remember, Google gives you only so many characters to use, so we chose to use top builders instead to communicate an element of status.
2. Product
What is your product? The answer to this question might seem obvious and self-explanatory. But you'd be surprised to find out how many SaaS companies are unclear about what they're selling in their search ad copy.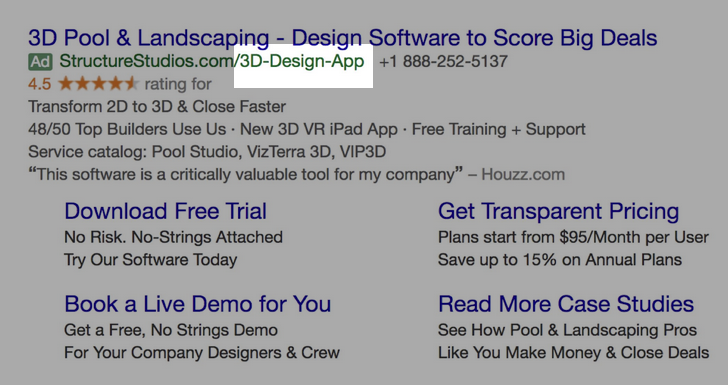 For Structure Studios, notice that we had them state in the landing page URL that they are a 3D Design App.
We wanted to make it very clear that they're not a productized service. By including the word app, Structure Studios distinguishes themselves as software to anyone who's served this ad.
3. Prospect Intent
What do your prospects want? To design effective Google search ad copy, it's important you consider the results that your target audience wants to achieve. No one buys software for the sake of the software itself. Someone buys software for the outcome it promises to deliver.
In Structure Studios' case, we know that their customers are professional landscapers and pool builders. Landscapers and pool builders have always needed a way to spec out designs they can show to prospective clients. Having the capacity to mock up beautiful designs enables them to land contracts.
4. Stat-Based Proof
What evidence do you have that demonstrates the reliability of your product? Compile those details and highlight it in your Google search ad. It's even more effective when you can provide statistical proof that people in your target audience trust you.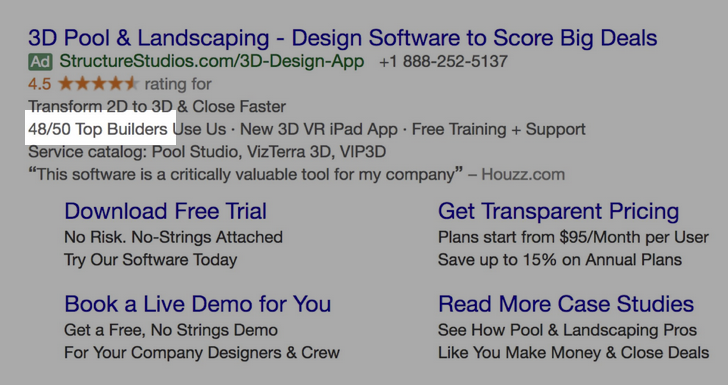 For Structure Studios' search ad we noted this stat: 48 out of 50 top builders use their software.
Then in the sitelinks, we included a call to action to read more case studies. Clicking that link sends prospects to a landing page with examples of customer success. We also included a quote from a satisfied user for additional social proof.
5. Top Benefit
What does a prospect stand to gain most by using your software? An effective search ad details what can happen if someone decides to choose you as a solution. It describes where a prospect will be after using your software.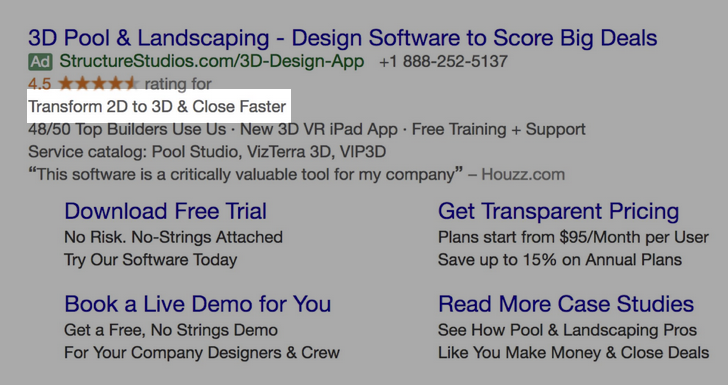 We did this in the subheader of the Structure Studios ad.
The phrase "Transform 2D to 3D & Close Faster" illustrates two benefits. These are benefits that Structure Studios told us match the desires of their target customers.
6. Top Objection
Why would a prospect be averse to trying your software? Think of any specific barriers you might have to overcome in the minds of your target audience, then address them in your creative. Common objections include:
Too hard to learn
Too expensive
Doesn't integrate with their existing tech stack
Too long to deploy or implement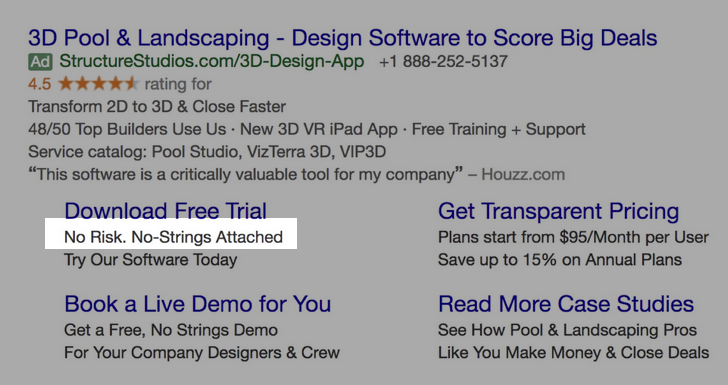 For Structure Studios, most of their prospects want to know if there are any strings attached to their free demo. Many of them object to sign up if there are any stipulations or conditions involved. There aren't any, so we emphasized that in the copy.
7. Sense of Entitlement
What do your prospects feel they deserve? This is an element that's more psychological than anything else. You want to discover what your target audience feels they're owed. When you discover what that is, you can appeal to it from an emotional standpoint in your copy.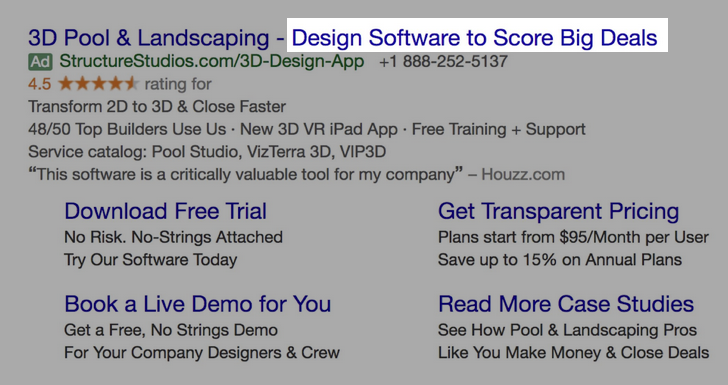 With Structure Studios, a lot of the pool builders and landscapers believe they deserve big contracts, but find it hard to land them. Instead, they tend to settle for clients who, for example, will only pay a discounted rate for a $200,000 backyard.
With that in mind, we included the phrase "Score Big Deals" to communicate that builders can land clients who will pay them what they're worth when they use Structure Studios.
8. Call to Action
What's your prospects' next move after they see your ad? Users always need to be instructed or guided toward next steps. Effective search ads include copy that tells them exactly what they need to do to move the process forward.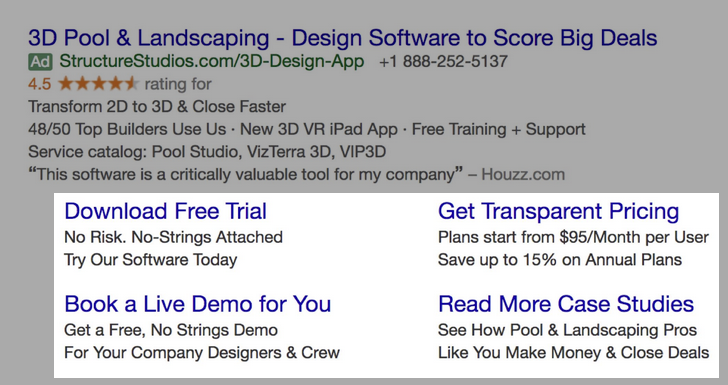 There are a handful of CTAs in this search ad for Structure Studios. One of them is to book a live demo. To supplement that we also included the phrase "For Your Company Designers & Crew". We decided to use this verbiage after our research suggested that these are the kinds of words Structure Studios' target audience uses when talking about themselves.
We could've just called the audience to "Get Pricing". But one of the things that we learned from Structure Studios is that their competitors aren't very forthcoming about how much their software costs. With that in mind, we decided to emphasize the concept of transparency when instructing prospects to get pricing.
9. Keyword Congruency
What are your prospects searching for? Keyword congruency is a concept we coined to describe the act of ensuring your ad matches the intent behind your prospects' search queries.
Along with matching the emotion behind a prospects' intent, keyword congruency also involves bolding the keywords they've looked up. From a virtual real-estate standpoint, this can help your ad stand out visually from other results.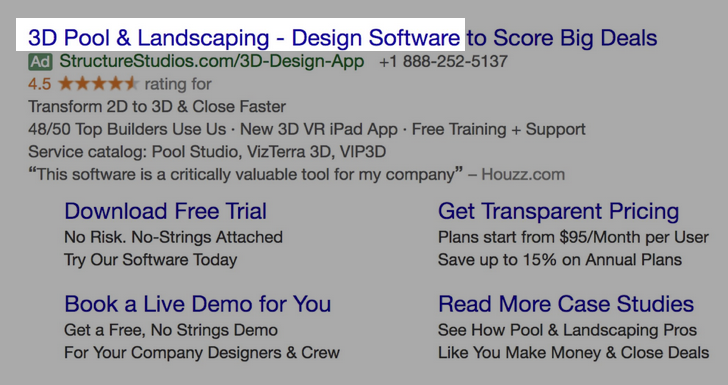 In the case of Structure Studios, this ad is for anyone searching for the keywords 3D landscaping software or 3D pool software.
By including these terms, the ad copy aligns with a user's intent. It also helps Structure Studios achieve better quality scores for keyword quality and ad click-through rate.
The Winning Elements of Effective Creative Through Google Display Ads
Most SaaS companies don't give much thought to creative for their Google Display ads, either. Many times, they make one-dimensional banners that call prospects to take bottom-of-the-funnel actions like a free trial or demo. Or, they use their existing inventory of remarketing banners in cold audience display campaigns.
These are just a handful of mistakes that we see SaaS companies make on a regular basis. But through these experiences, we've learned how to create Google Display ads for clients that convert. We've found effective creative for Google Display hinges upon both appropriate imageryandcopy.
How to Design Imagery for Google Display Creative That Captivates Prospects
First, start by determining the base background layer of your image. Our philosophy is to create background layers based on the following three hypotheses:
The ad should showcase the software.
The ad should showcase the before and after of someone who uses the software.
The ad should showcase a person using the software.
The Ad Should Showcase the Product
This is how most companies design display creative. For example, they'll superimpose a screenshot of their software's dashboard on the screen of a Macbook or an iPhone. This works, but it's a very limited way of showcasing their product.
Instead, mix up your imagery. Change the shot where your software appears, but keep the context the same. For example, aside from Macbooks or iPhones, try superimposing your software on the screen of a laptop PC or an Android phone. You can then split test these options in your campaigns and optimize for the creative that yields the best performance.
The Ad Should Showcase a Person Using the Software
Display ads that feature people and their faces as well as their eyes and what they're looking at tend to perform well. They generate attention from users, which leads to more clicks.
Seth Godin often espouses the concept in marketing that "people like us do things like this."
It's the idea that many people are driven by a desire to fit in with a tribe. With that in mind, you can highlight people in your creative that are accomplishing their goals through using your software.
The Ad Should Showcase the Before and After of a Person Who Uses the Software
In this instance, your creative wouldn't showcase the product at all. You wouldn't even feature a person using or looking at it. Instead, make creative featuring someone's emotions before and after using your product.
For example, let's say you sell software that enables businesses to upsell customers post purchase. In this instance, you could design creative featuring someone with a big smile on her face as she's just about to step inside of a bank. That image would demonstrate the after effects of relying on your software.
How to Write Strong Ad Copy for Google Display Creative
The second element of effective creative for Google Display ads are the words you use.
Whenever we're writing copy for a display ad, we base it on the model of the following four forces:
Fears
Frustrations
Wants
Aspirations
Keep in mind that the only job of your ad is to get the click, so keep your messaging clear and concise. Focus first on compiling the top three traits of each force for your SaaS business. Then, create 12 different versions of copy around each one.
There are also three layers of copy to consider when designing creative for Google Display. First, there's the headline. Then, there's your background text, which is a few words that speak to the emotions of your target prospect. And last is your call to action.
CTAs on Google Display ads should be high contrast. They should pop from the rest of the copy on the creative. Like CTAs in other contexts, they should also instruct the customer on what they need to do next if they're interested.
Good CTA copy is buyer centric. Oftentimes, we see many SaaS companies make the mistake of writing seller-centric messaging — copy that focuses on how the transaction benefits you rather than your customer. For example, "sign up for a demo."
An example of good buyer-centric messaging would be something like "start designing today" if you sell UX or graphic design software.
In essence, buyer-centric copy conveys to your prospects that the action step they're taking is more beneficial to them than it is to you.
Concluding What We've Covered
In a way, ad creative is just another vessel for the positioning of your company. If you were to distill all the features, benefits, and concepts that make your SaaS platform special, Google Search or Display creative are your opportunities to share that distillation.
The reason why most SaaS companies invest little effort in Google Ads creative is because it's a low-fidelity aspect of their advertising and sales strategy.
Take for comparison something much more high fidelity like a sales call. Most companies spend hundreds of thousands of dollars optimizing their sales rep calls because they think the stakes are higher. Mess up a call with a prospect and that prospect is gone.
But this is a problem that's glaringly obvious to most SaaS companies and therefore easy to address. Meanwhile having a 1% click-through rate on ads is less obvious of a problem, especially with a significant PPC budget. What they miss is that 99% of the people who saw their ads didn't click.
Now imagine if you increase that click-through rate to 5%. You've now quintupled the amount of people you can impact. Aside from optimizing targeting or increasing your budget, rethinking the way you're designing your creative is one of the more effective ways to multiply your results.
More people will see your ads than will ever enjoy your software and its benefits. Because your marketing will impact your target audience more than your product ever will, it's worth investing some more time into finely designing your ad creative. Doing so can help your business make its mark.
Does your B2B SaaS company want more insight and a second set of eyes on your Google Ads creative? We can help. Reach out to us and schedule a Free SaaS Scale Session.