How to Create Lead Magnet Thank You Pages That Convert to Trial and Demo Signups
Last updated: November 23rd, 2023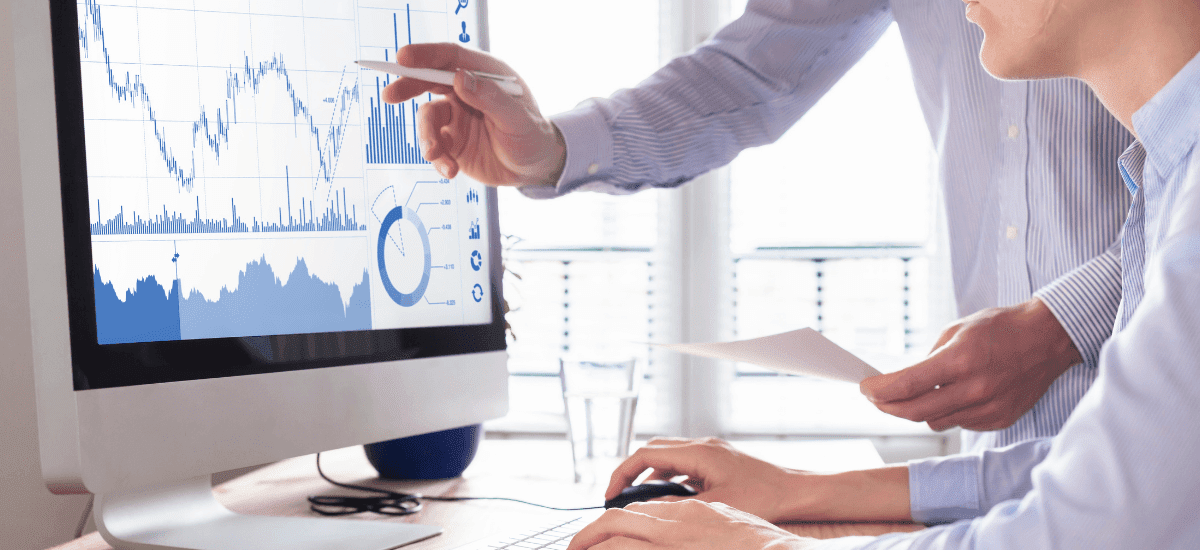 Offering free lead magnets in exchange for contact information is one of the most common approaches for acquiring MQLs. B2B SaaS companies spend a lot of money on creating reports and white papers that are automatically sent via email when people fill out a form.
Typically, prospects who fill out the form are sent to a Thank You page with a short message. It will say something like:
"Thank you for downloading our white paper! Follow this link to download it."
Or it might say:
"Thank you for downloading our industry report. It's on it's way to your email now!"
Then, users bounce to their inbox or download page, and companies are stuck hoping that their marketing automation emails or remarketing campaigns will eventually lead these prospects to sign up for a trial or demo.
But they have no idea if or when prospects will move to the next stage in their funnel.
What companies miss here is that there is often a small percentage of prospects that opt in who are ready to take the next step and sign up for a trial or demo if it were offered to them in the right way.  
By using Thank You pages to provide these prospects with a contextualized offer, we've helped our clients convert leads to trial or demo signups at a rate of 5% to 10%.
That's higher than the typical 2.5% to 5% conversion rates we see with direct trial or demo campaigns.
In this post, we'll walk through an example of a high performing lead magnet Thank You page that we created for our client Snap Projections. You'll learn:
Our approach to lead magnets for B2B SaaS lead generation
How to structure sign up Thank You pages to pitch contextualized offers for trial and demo signups
How to test Thank You page variations to see which offer performs best
But before we get into lead magnet Thank You pages, we need to take a step back to explain our approach to SaaS lead magnets. Specific types of lead magnets lend themselves to using our Thank You page strategy, so we'll briefly cover these first.
Are you a B2B SaaS business looking to better understand how to capture leads throughout your funnel? Schedule a Free SaaS Scale Session today to learn how we can help.
Our approach to lead magnets for B2B SaaS lead generation
As we mentioned above, B2B SaaS companies tend to use content like industry reports, white papers, or webinars as lead magnets.
But these resources are often long, boring, and not that useful to prospects.
They don't usually work well for educating prospects about the problem they solve, or motivate them to try out their solution.
Instead, when creating lead magnets for our clients, we focus on resources that:
Are actionable, quick, and easy to use or consume
Educate prospects about a specific pain point that our client's product solves
Show prospects the benefits of solving their problem
Examples of the types of lead magnets that we have found to work well in B2B SaaS include:
Calculators
Templates
Cheatsheets
Checklists
Canvases
Questionnaires
In the case of the Thank You page strategy we describe below, we used what we call a 'Mistakes to Avoid' lead magnet. This is a downloadable checklist that lists common mistakes directly relating to the pain points our client's product addresses.
Snap Projections is a financial planning software for financial advisors that simplifies their planning process and helps them convert more prospects to clients.
We called their lead magnet: 7 Critical Financial Planning Mistakes to Avoid When Scaling Your AUM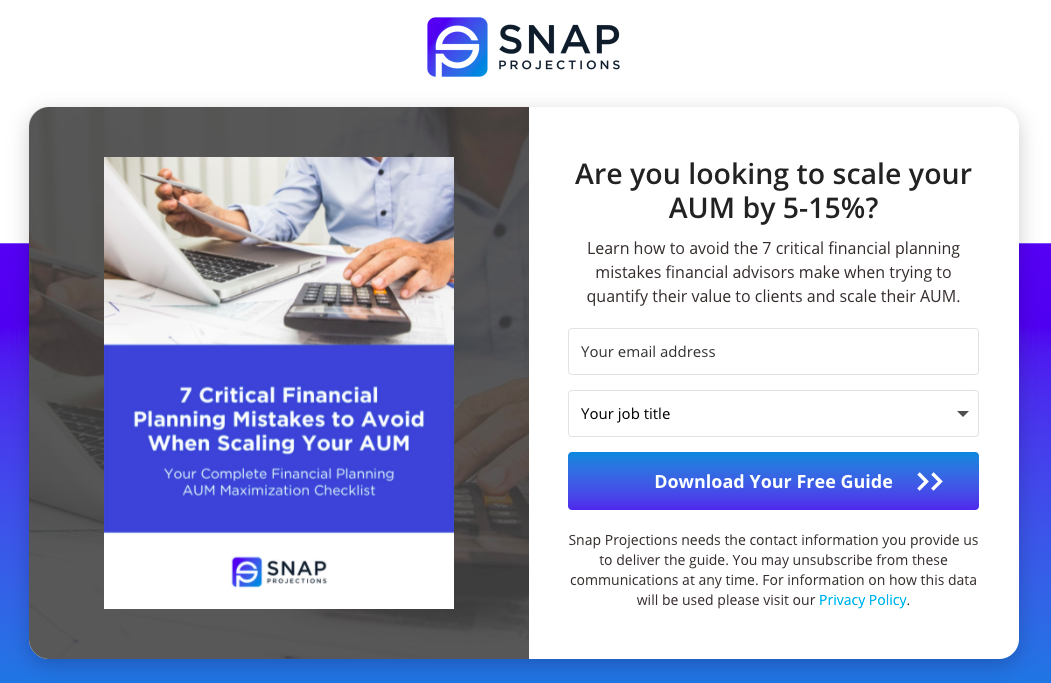 For Financial Advisors, growing their assets under management is a key challenge.
Snap Projections solves this by allowing them to simplify their planning process, increase client engagement, and grow through referrals. Difficulty retaining and scaling clients is the main pain point they help solve for financial advisors.
That's why this topic makes sense for a lead magnet.
Next, we'll look at the Thank You page we created for them, discussing key elements of the page, and our reasoning behind each.
How to structure sign up Thank You pages to pitch trial and demo signups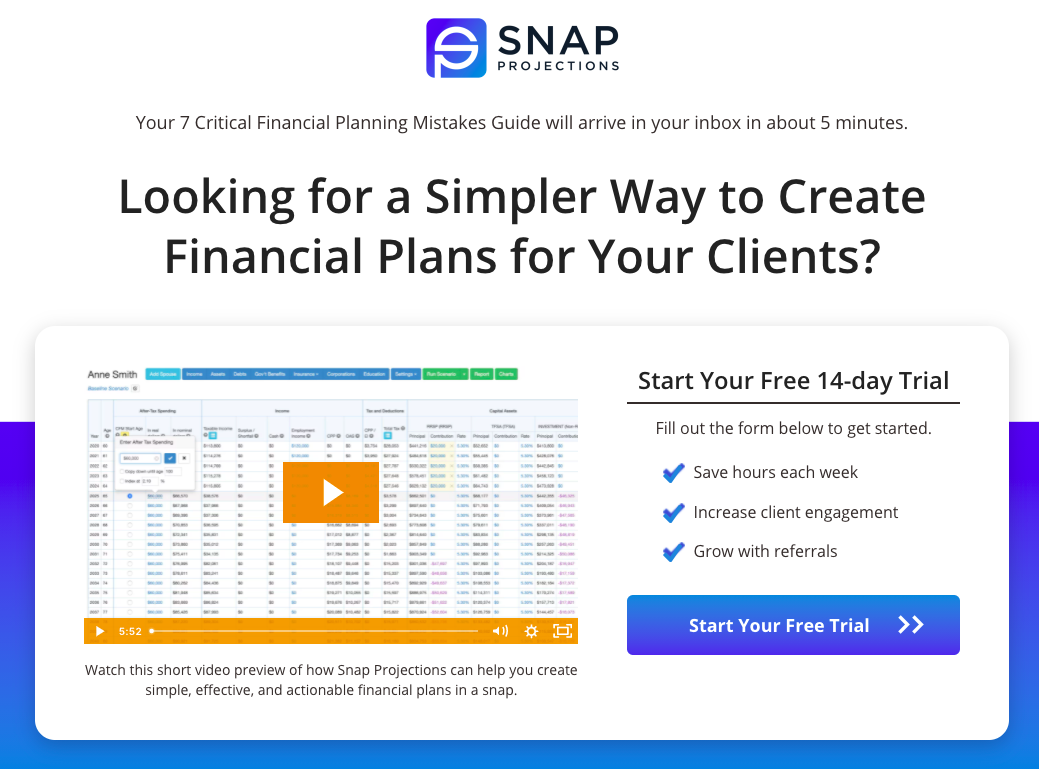 When leads opt in to download Snap Projections' lead magnet, they land on the page pictured above. The first line reads:
Your 7 Critical Financial Planning Mistakes Guide will arrive in your inbox in about 5 minutes.
This line is strategic. By letting prospects know that their guide won't arrive for 5 minutes, we reduce the urgency of prospects to immediately bounce, while increasing the chance that they'll stick around and engage with the Thank You page.
Next the main headline reads:
Looking for a Simpler Way to Create Financial Plans for Your Clients?
This line speaks directly to one of the key pain points covered in the lead magnet.
That's important because it contextualizes the trial offer, and creates a logical progression from lead magnet download to trial signup.
We phrase it as a question because our data shows that questions get higher engagement rates from page viewers.
Then, below the headline, is the final section above the fold. On the left, we feature a 5-minute video walkthrough of their product.
This is a low stakes way for leads to learn more about their solution, and get a sense of what it's really like to use your product.
On the right, we feature our call to action (CTA) to sign up for a free 14-day trial. We also provide the 3 greatest benefits of their service:
Save hours each week
Increase client engagement
Grow with referrals
Providing three core benefits focuses the prospect on the most important ways you can help them and their business.
It's a concise summary that speaks directly to the pain points of Snap Projections' buyer persona.
Below the fold, for people who want to engage further, we provide:
Trust badges for social proof
More detail about the 3 core product benefits
Testimonials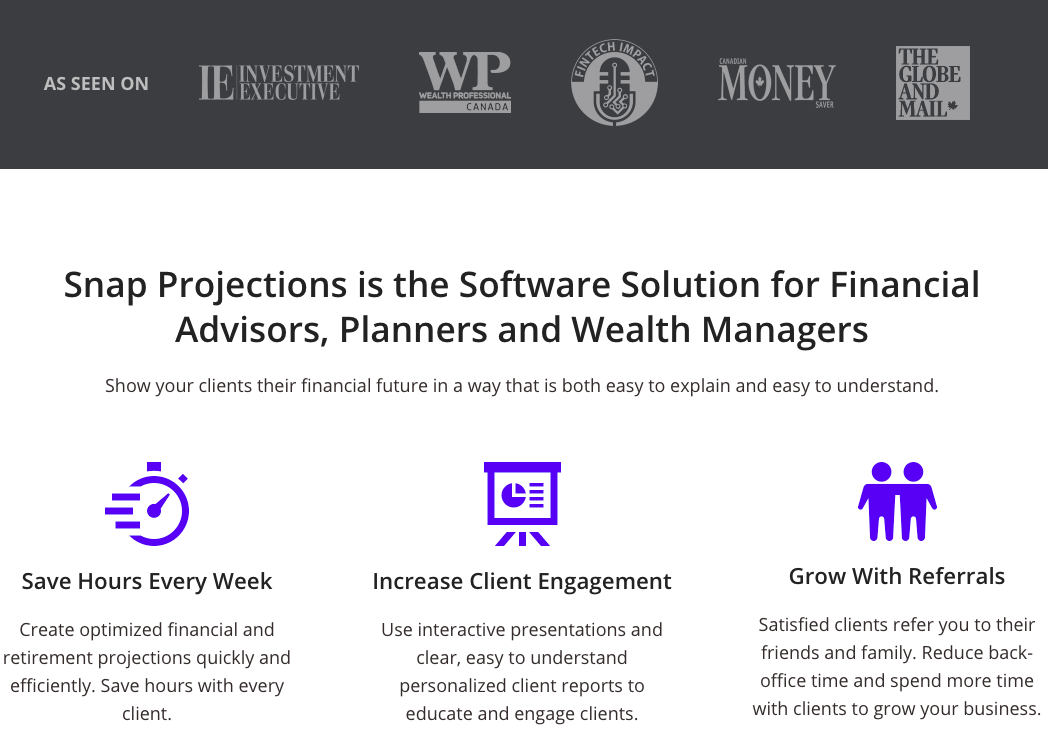 Trust badges are typically logos of businesses that our client serves.
In this case, we used logos of media outlets where Snap Projections has been featured. This section provides an element of social proof and helps to build trust as a reader scrolls.
Then, our headline for the feature expansion section reads:
Snap Projections is the Software Solution for Financial Advisors, Planners and Wealth Managers
This makes clear exactly who their product is for, clarifying that if they're one of these types of people: they're in the right place.
In the body of our feature expansion section, we expand on each of the 3 core product benefits that are listed in the CTA above.
A reader scrolling down the page indicates they want more information. So that's where we give more context on the core benefits, similar to the structure of a SaaS product page.
Finally, we provide testimonials from happy customers: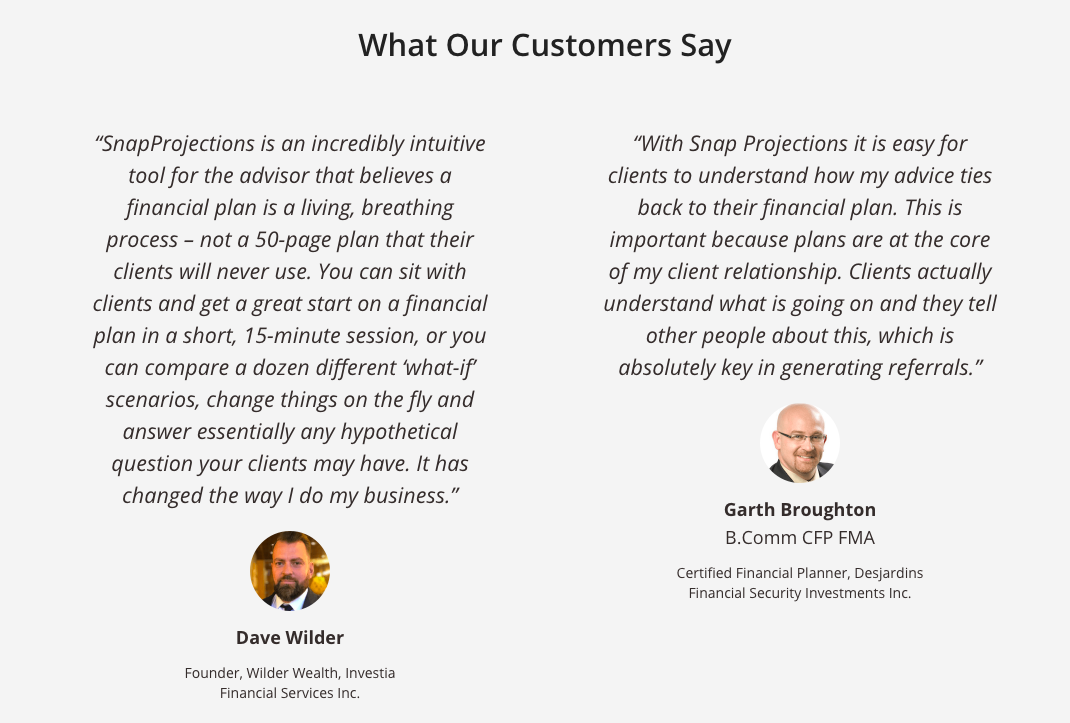 When you're engaging with leads early on in their buyer journey, continuing to provide social proof is essential.
This builds credibility with prospects who are just getting to know your brand, and likely don't trust you yet.
Following SaaS landing page best practices, we didn't include a footer menu on the page.
Doing so can distract leads from taking the one desired action: signing up for a trial.
How to test Thank You page offers to find the highest performer
The offer we position on a Thank You page depends on the goals of our client, the lead magnet content, and what stage of the customer journey prospects are in.
In the case of Snap Projections, they offer both a free trial and a product demo but free trial sign ups are of higher value for them.
They require a credit card to sign up for a free trial, so there's more commitment and higher intent than prospects who sign up for their demo (which is also free but does not require a credit card).
We initially tested the demo on the Thank You page because this was a lower ask and we hypothesized that this would convert better for cold prospects.
But we also created a second version of the page with a free trial offer so we could test the two against each other and see which one performed better.
Here's an example of the Thank You page featuring their demo offer: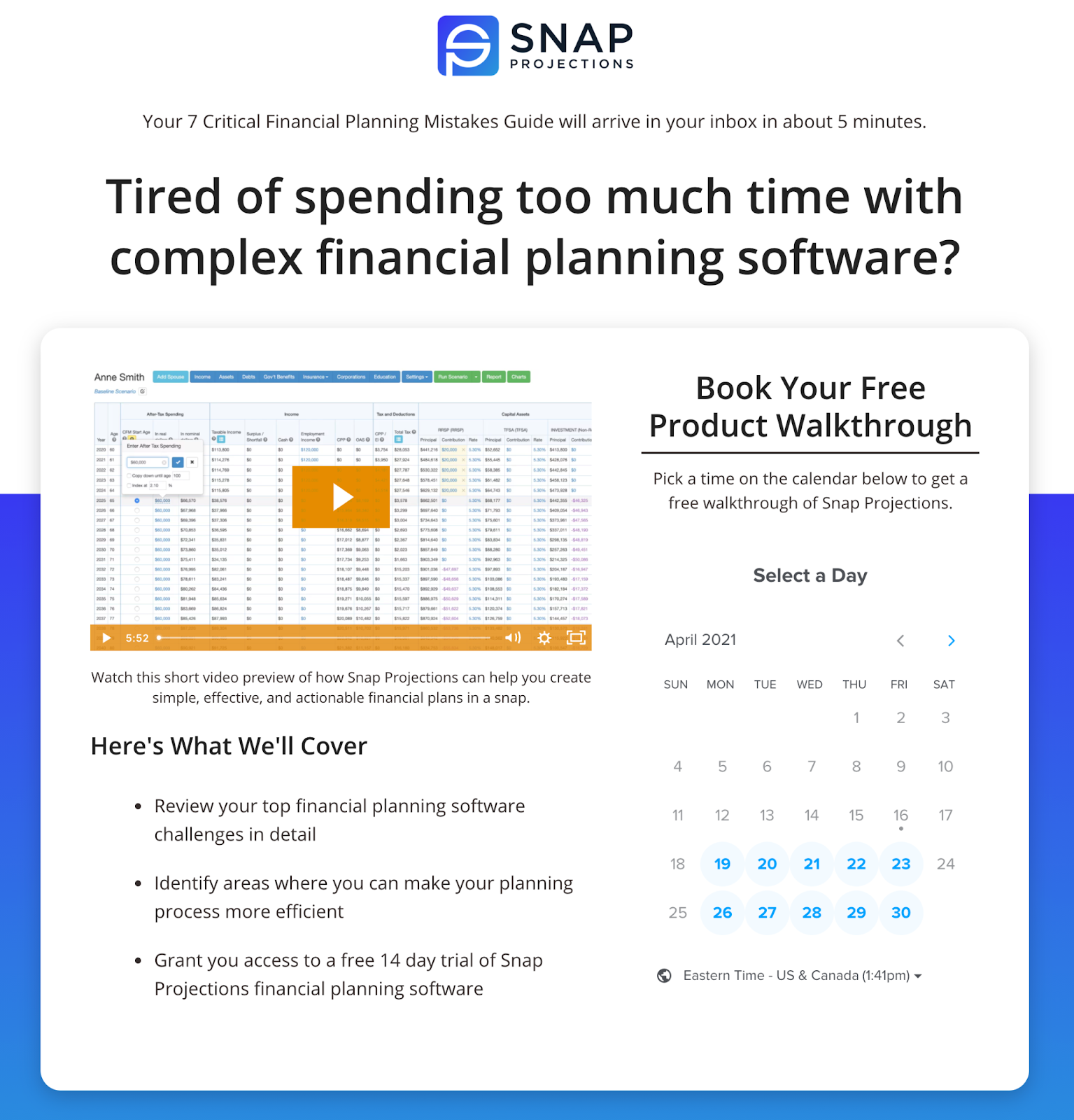 The only differences with this page was that we tested a different headline and included a few bullet points on what prospects can expect to cover in a demo.
Additionally, this page uses a calendar integration so prospects can book an appointment directly through the page. This helps reduce friction and increase sign up conversion rates.
To test the two pages against each other, we ran Facebook Ads campaigns to both for a period of four weeks and evaluated performance based on their conversion rates.
Ultimately, when we took both the conversion rates and the value of each offer into consideration (ie. trials were more valuable to them than demos), we decided to focus solely on the free trial page.
Note: When choosing which offers to test, it's important to consider the content of the lead magnet itself. For example, for ToF content, you might choose to offer a 5 minute product walkthrough video over a personalized demo to help move prospects down the funnel.
It's time to pay more attention to your Thank You pages
Some portion of the people who download lead magnets are ready and willing to see what you have to offer them.
By using a downloadable Thank You page to educate and motivate prospects on the problems your product can solve for them, you can actually convert some of those leads into trial and demo signups immediately.
The only cost to you is the investment to set up these pages.
In our experience, we've seen up to 10% conversion rates for our clients.
If you follow our format and the process laid out above, you can capitalize on this opportunity, and start converting more of your leads into trial and demo signups.
Are you a B2B SaaS business looking to better understand how to capture leads throughout your funnel? Schedule a Free SaaS Scale Session today to learn how we can help.
What you should do now
Whenever you're ready…here are 4 ways we can help you grow your B2B software or technology business:
Claim your Free Marketing Plan. If you'd like to work with us to turn your website into your best demo and trial acquisition platform, claim your FREE Marketing Plan. One of our growth experts will understand your current demand generation situation, and then suggest practical digital marketing strategies to hit your pipeline targets with certainty and predictability.
If you'd like to learn the exact demand strategies we use for free, go to our blog or visit our resources section, where you can download guides, calculators, and templates we use for our most successful clients.
If you'd like to work with other experts on our team or learn why we have off the charts team member satisfaction score, then see our Careers page.
If you know another marketer who'd enjoy reading this page, share it with them via email, Linkedin, Twitter, or Facebook.