How to Optimize SaaS Integration Pages to Drive Organic Traffic and Leads
Last updated: June 9th, 2021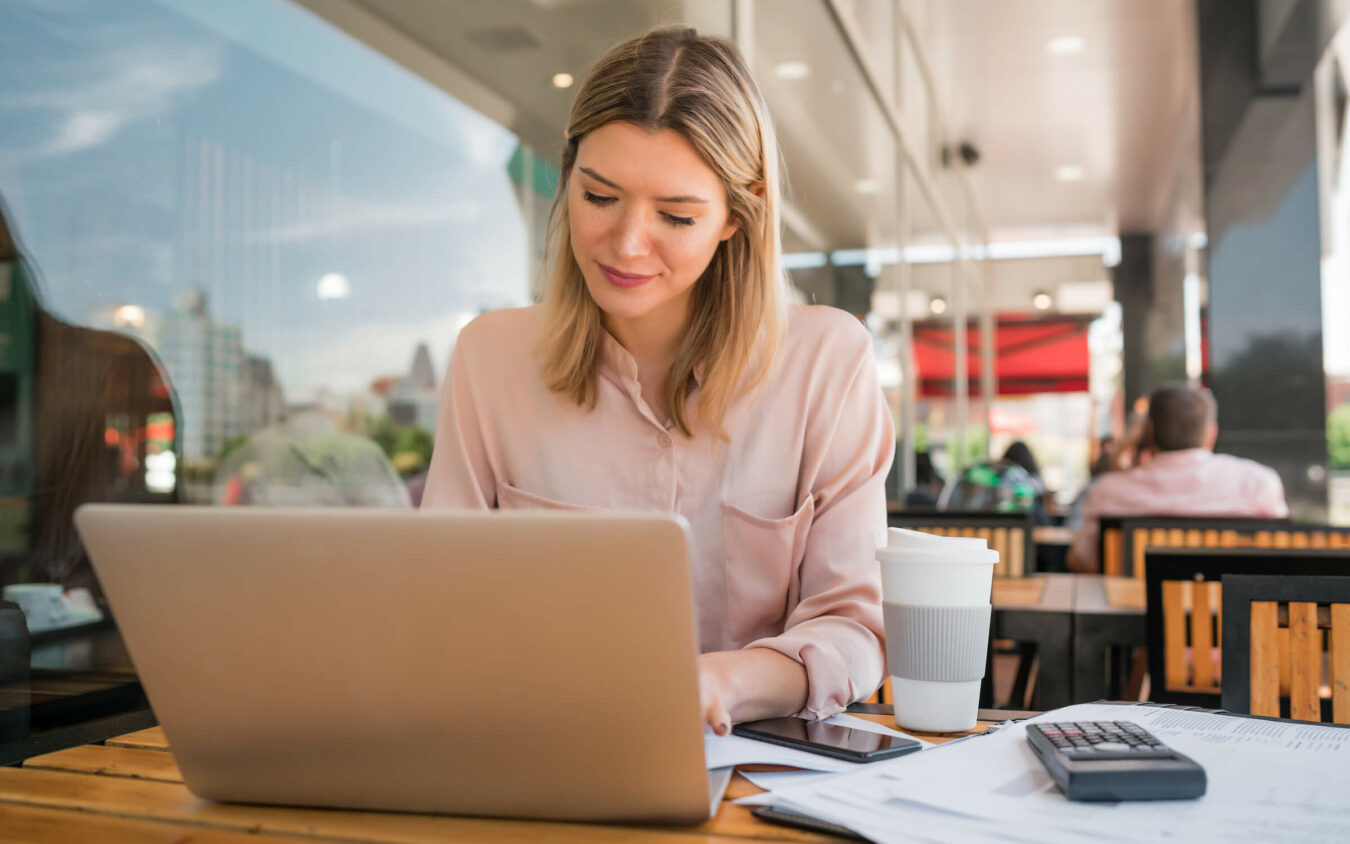 Integrations are commonplace in B2B SaaS, but companies rarely put thought into how to leverage them through marketing.
In our experience, we've seen significant SEO opportunities for integration pages to acquire keyword rankings and drive high-quality organic traffic.
For example, consider this organic search data from one of our clients:

Over the past year, their integrations pages have generated over 4,500 organic clicks and over 450,000 impressions.
This client sells "dialer" software that integrates with CRM systems to help sales teams scale outreach. And much of the impressions and traffic they receive to their integrations pages are from search queries like "Salesforce phone integration" or "Pipedrive dialer."
These are high intent, middle of funnel (MOFU) keywords that reach their exact target audience. Seeing this search volume around topics relevant to their vertical is not uncommon among our clients.
With this level of organic traffic and impressions for valuable keywords, integration pages clearly warrant optimization — both for SEO and lead capture. Yet, most SaaS companies never see these opportunities or make efforts to take advantage of them.
As a result, their integrations pages fail to:
Educate prospects enough about the value of their integrations.
Earn keyword rankings or organic traffic.
Convert any of their organic traffic into leads.
In this post, we lay out the ways we approach improving integrations pages for our B2B SaaS clients. We'll share two ways to improve the performance of your main integrations page. Then, we'll discuss the "how" and "why" behind creating dedicated landing pages for your top integrations.
Looking to discover opportunities and improve SEO for your B2B SaaS business? Schedule a Free SaaS Scale Session to speak with our team.
2 ways to optimize your main integrations page
Most SaaS websites have a single web page that lists their integrations. It's usually linked in their main navigation or footer menu.
For many of our clients, this is the page that receives the most impressions and clicks for integration-related search queries. As a result, it tends to have the highest potential for generating organic traffic.
The problem is that most B2B SaaS companies don't optimize this page for search engines.
This means it never ranks for relevant search terms that drive organic traffic. And even if it does, visitors tend to bounce quickly because:
It's structured poorly with a confusing user experience, or
There isn't enough educational content teaching someone how integrations work or motivating them to learn more.
When people exit a page quickly, it signals to search engines that the page isn't useful. This then hurts rankings and a vicious cycle ensues.
By improving the structure and content of your integrations page, you can improve SEO performance while providing a better user experience. That way, when visitors arrive, some of them move down your funnel.
Let's talk through how we optimize structure first, and then we'll cover how to improve content.
1. Ideal structure for your integrations page
There are different ways companies approach structuring their main integrations page:
A minimalist approach with only high level information on how integrations can help, but no list of the specific integrations available.
A focused approach where they list select integrations.
A full list of integrations in alphabetical order or broken into categories like use cases, personas, or industries.
The category approach is the best practice and what we always recommend to clients. It improves user experience because visitors can easily navigate to the integrations category that's most relevant to them.
Note: A category structure also has benefits for technical SEO. It allows search engines to easily navigate and understand the topical content of the page.
Here's an example of a B2B SaaS company categorizing their integrations by persona and use case: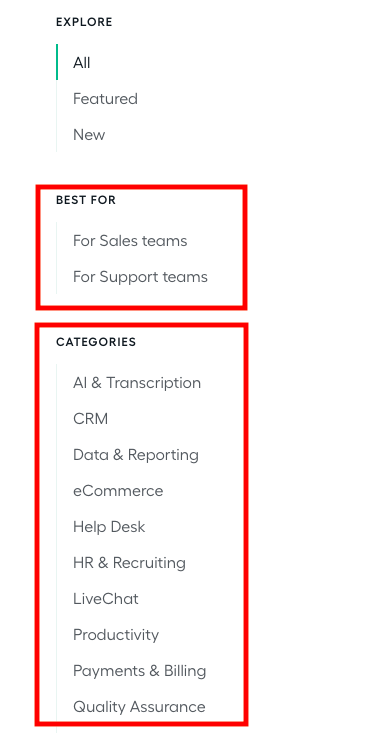 Their target buyer personas are sales teams and support teams.
By using a "Best For" category, they make it easy for anyone in sales or customer support to filter the integrations relevant to them.
Then, below that, they list specific use cases or types of integrations under "Categories."
If a visitor has a specific kind of product they want to use with your software (like a CRM), they can easily find out if there's an integration available.
Lastly, it's valuable to include a "Featured" category as well. This allows you to:
Steer users toward integrations that convert prospects into customers.
Improve user experience making it easy to find your most popular integrations.
Introduce and promote new integrations.
Companies who use a "Featured" category tend to just include this as another category in their sidebar menu. But the approach we recommend to clients is to also place a section of content in the top center of the page that features specific integrations.
For example, Slack takes this approach: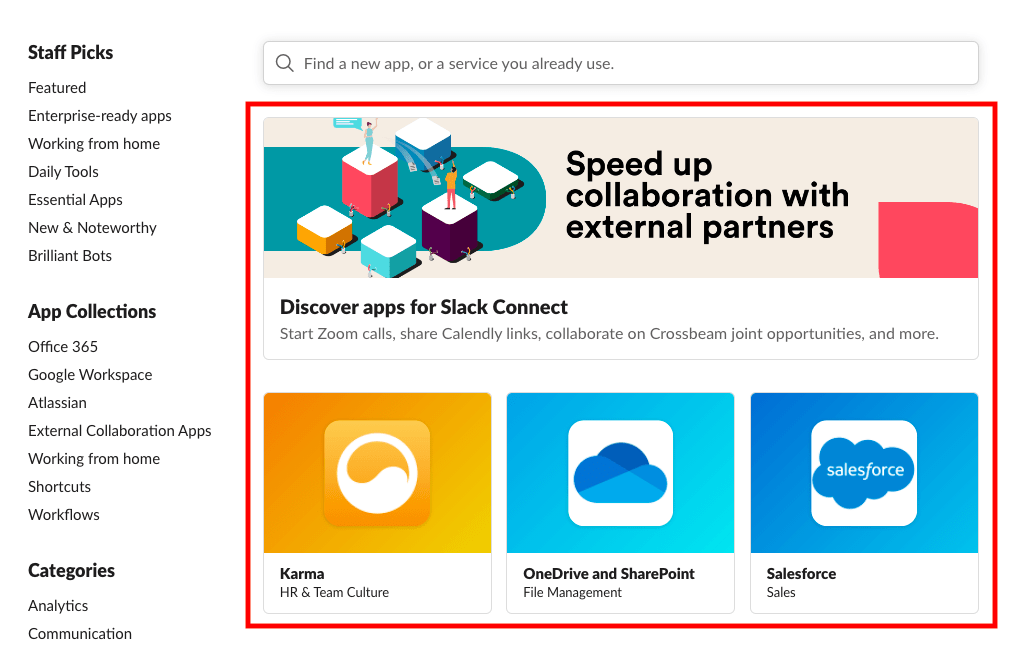 Visitors can easily ignore a link in the sidebar to view featured integrations. By highlighting your top integrations front and center, you can direct attention to the integrations that are most compelling to prospects — and most likely to generate leads and convert.
2. Adding depth to your integration content
Regardless of how the page is structured, content on an integrations page tends to be thin or nonexistent. There is often no explanation of how integrations work or benefit users.
This hurts SEO because there isn't enough content to signal quality and relevance to search engines for integration-related searches. It also hurts conversion and lead generation because prospects are given no information to compel them to buy or learn more.
You can solve both of these problems by incorporating more content on your page. It doesn't have to be extensive, but you need more than just a brand name and logo.
Consider this example from our client FieldInsight: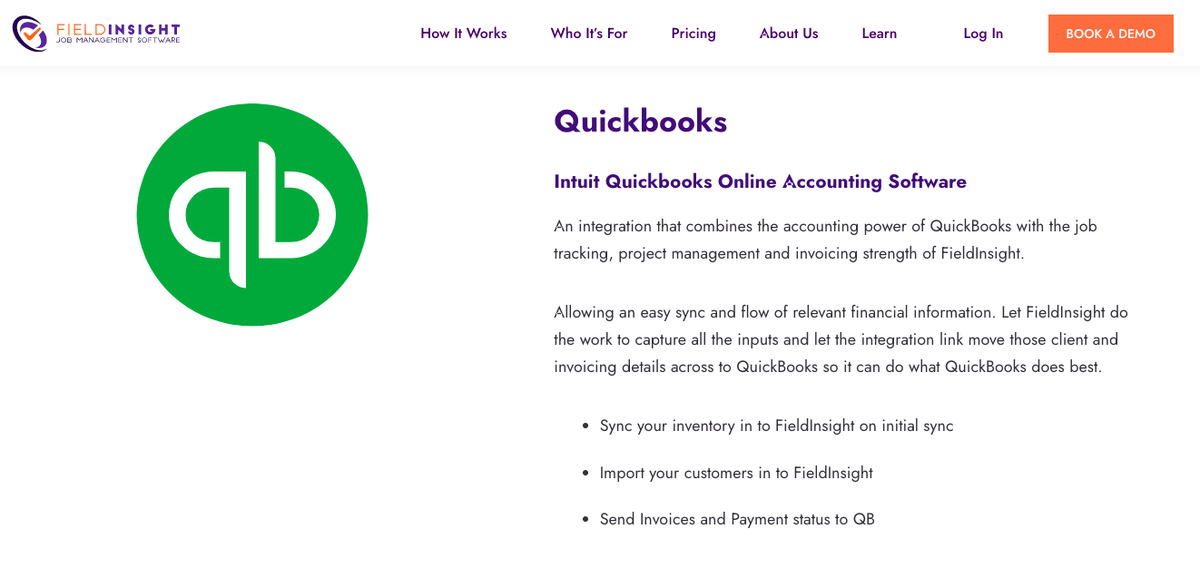 They make job management software for field service businesses (eg. HVAC, electrical, plumbing). One of their top integrations is with QuickBooks.
In addition to implementing the category approach described above, we used a simple format for educating prospects on how each one works:
Heading with the brand name of the integration.
Sub-heading with the brand name and software category.
Short description of how it works.
Three bullets of key features that users love.
This helps prospects easily understand how they can benefit from the integration. It also improves the page's ability to get impressions and rankings for QuickBooks-related search queries.
In the case of FieldInsight, we chose this format because their list is limited. But if your list is extensive, you can simply choose specific integrations to feature with content.
This will create a much stronger page for both user experience and SEO. But to take full advantage of SEO and lead generation opportunities from integrations, you can go a step further with dedicated landing pages.
Why you should create dedicated landing pages for your top integrations
Many SaaS companies have certain integrations that:
Have higher search volume and organic traffic potential.
Excite prospects and come up often in sales conversations.
Disproportionately influence leads to buy.
With dedicated landing pages for these top integrations, your ability to optimize for SEO and capture leads is even greater than what you can reasonably do on your main integrations page.
An entire page enables you to create richer content that search engines are more likely to reward with high value keyword rankings.
You can also educate leads in a deeper way. A landing page can be leveraged to help them understand more about how they can benefit from a specific integration and the pain points it can solve.
For your top integrations, we recommend following the content format we described above on your main integrations page (ie. short description + bullets). Then include a link from there to a dedicated landing page where prospects can learn more.
You don't need to create dedicated pages for all of your integrations. You can be strategic about choosing them and do so based on data.
Which integrations should you create dedicated landing pages for?
There are three core ways to identify which integrations deserve dedicated pages.
1. Use Google Search Console
First, analyze the URL of your main integrations page in Google Search Console.
Look at which keywords drive the most organic clicks and impressions. If any of them include brand names of products you integrate with, they're worth creating dedicated pages for.
For example, take our "dialer" software client that we mentioned earlier. When we saw a high number of clicks and impressions for the keyword "Pipedrive dialer", that became a top candidate for a dedicated page because:
The intent is to find the exact type of integration our client offers.
There was a clear branded search volume to tap into.
There's an overlap in the target audience between Pipedrive and our client.
If you spot opportunities like this, consider them a priority option for a dedicated page.
2. Talk to your sales team
Next, learn about which integrations your prospects are most excited about from your sales team.
Which ones come up the most on sales calls? Which ones do prospects say, "This makes sense for us" or "Could we integrate this with x"?
If your prospects are telling you an integration makes sense for them, they're also likely searching for it. Integrations that are in demand are ones that also deserve dedicated pages.
3. Look at product usage data
Lastly, look at your data on how integrations are being used by current customers. Which integrations have been connected the most? Which are actually being used the most? These also warrant dedicated pages.
Note: The integrations you choose to create landing pages for are also the ones you should include in your "Featured" category and in the content on your main integrations page.
What to include on a dedicated integration landing page
Most of the time, when SaaS companies create dedicated pages for integrations, they use a basic templated format. Essentially, the same content is used on each page. The only differences are the name of the product they connect to and the URL.
As a result, search engines see the pages as duplicate content which hurts SEO performance.
Keyword cannibalization, where your pages compete with each other in the SERPs, also becomes a problem.
At the same time, the pages lack depth for educating and motivating prospects, so they don't work for lead generation either.
At best, companies will include content similar to what we recommended for featured content on your main integrations page. But the whole point of creating a dedicated landing page is to go deeper, offering custom content that will perform better for both SEO and lead gen.
The effective approach to creating content for a dedicated integration landing page requires being both detailed and strategic.
To explain this further, let's continue with our FieldInsight example from above.
Client Example: A dedicated landing page for FieldInsight's QuickBooks integration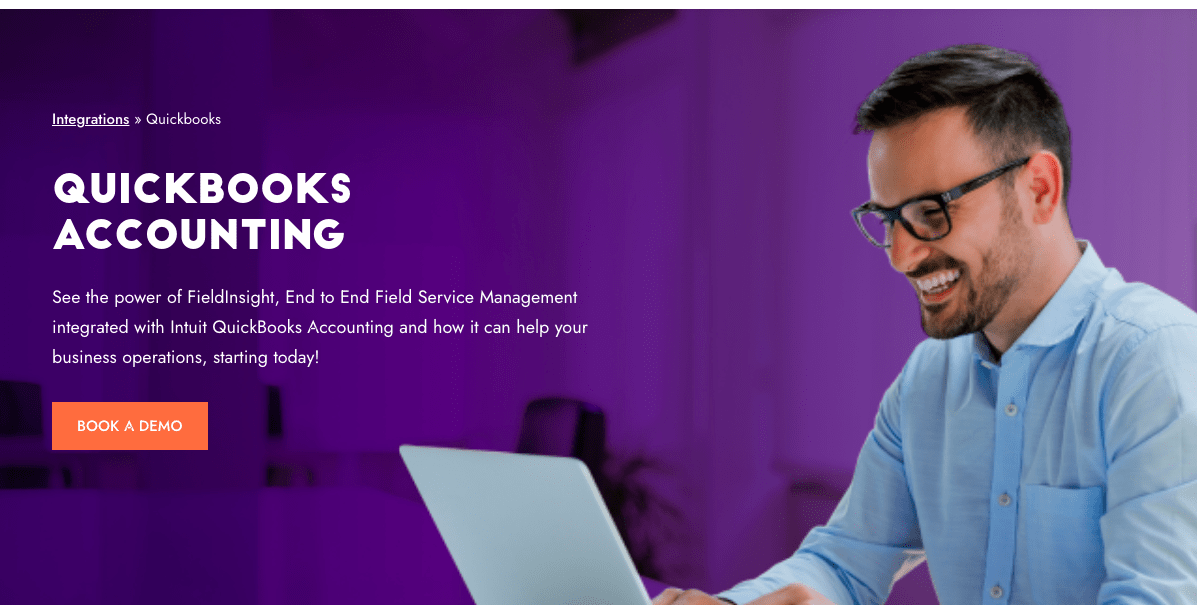 As a quick overview, we structured their page as follows:
Hero image with the integration brand keyword in the heading and a CTA to book a demo.
An overview section with key points about what's offered with the integration.
Sections covering specific pain points the integration solves.
A CTA and integrated calendar to book a demo directly from the page.
Essentially, we follow a format that you might use on a product or feature page, with conversion-focused, search optimized content.
Just below the fold we kick off with a keyword-rich heading and custom branded image:
Then we provide detailed bullets about what the integration offers: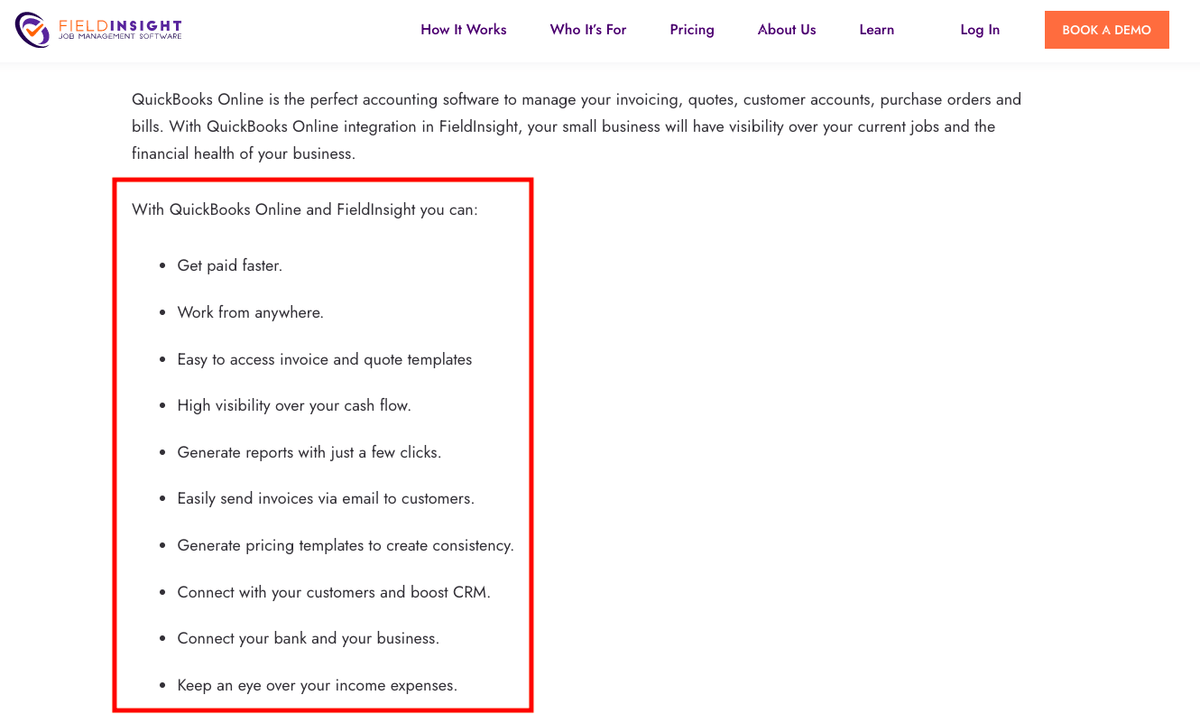 This provides users with an easy way to understand exactly what they can do when they integrate QuickBooks with FieldInsight.
Then, the following sections serve to highlight the pain points that using the integration can solve.
For example, tracking customer data is one of the biggest pains felt by FieldInsight's prospects.
So we created a section describing this problem: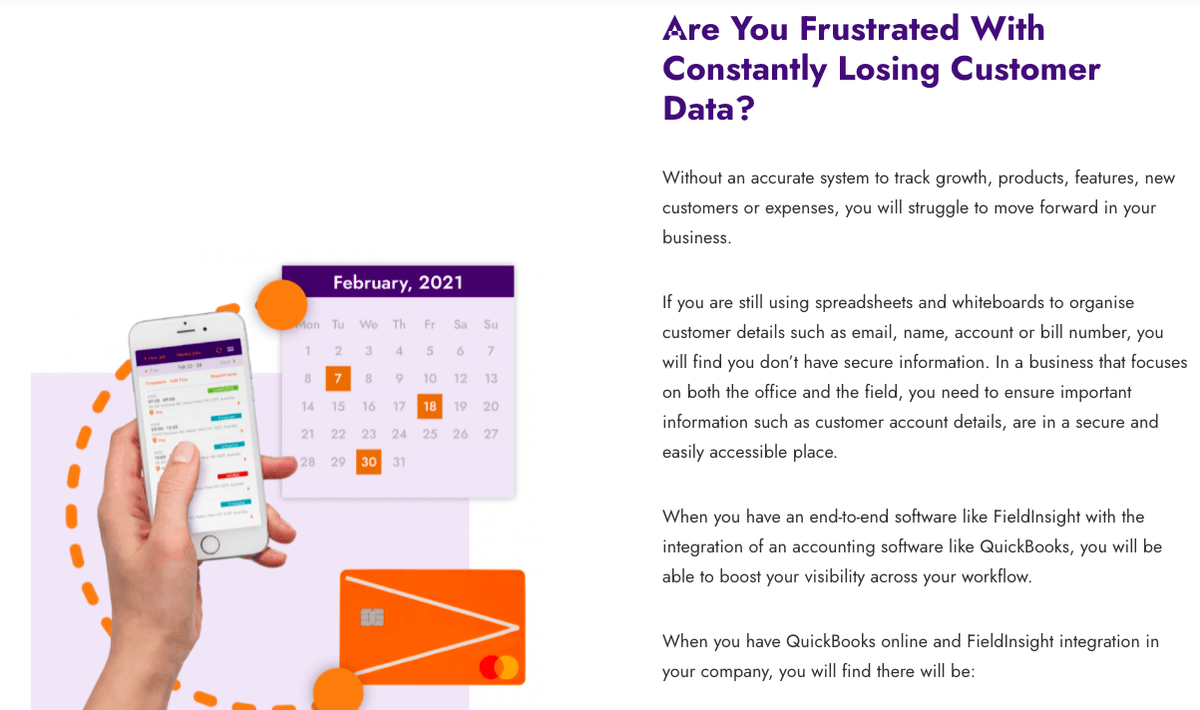 Then, we presented the ways in which using QuickBooks and FieldInsight together helps solve that problem: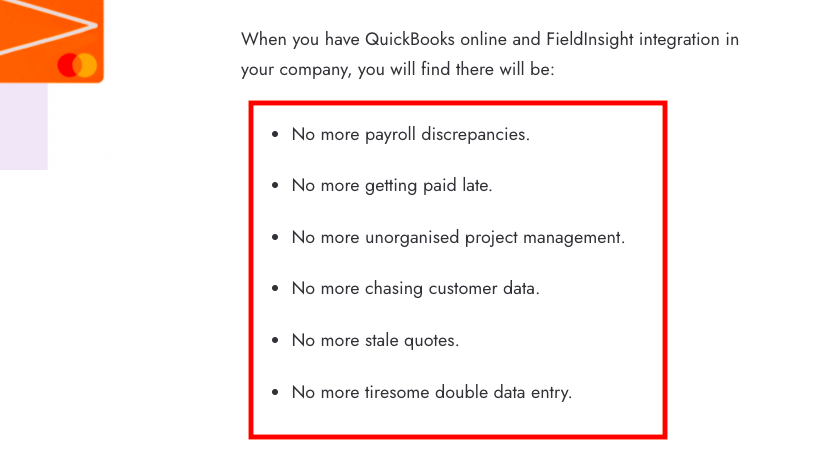 Pain point content like this is essential.
To convert prospects from your page, you need to go beyond "how it works" and show prospects the problems it solves for them.
Lastly, we included a final call to action at the bottom of the page: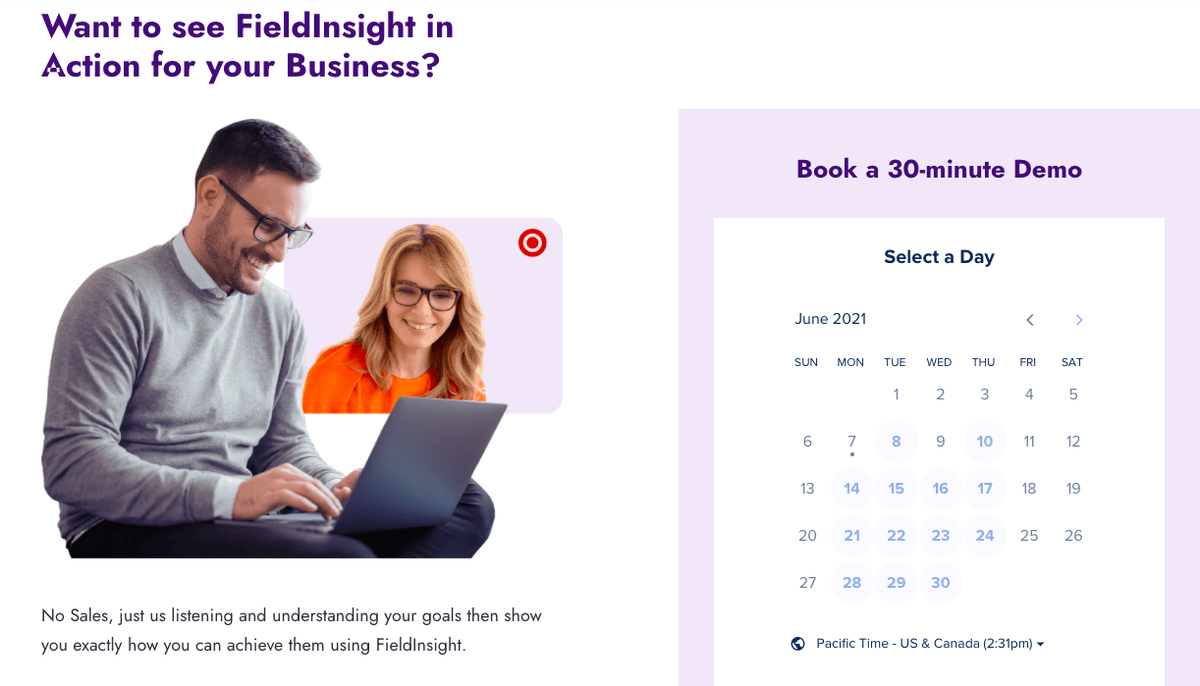 By placing a calendar to book a demo right from within the page, we create a seamless experience for prospects who want to learn more about how FieldInsight can help them.
If we used the standard templated approach that most SaaS companies take, offering a demo booking would be a complete miss on journey-offer fit.
But because we've gone to lengths to deeply educate prospects about how the integration works, and the problems it can solve, we're able to optimize this page for lead generation.
Put more effort into your integrations pages
The value of product integrations is higher than ever. Businesses are constantly looking for ways to simplify their tech stack and make their tools work better together.
As a result, integrations are a huge value add and selling point for B2B SaaS companies. And the potential for capturing organic traffic from integration-related search queries is significant.
If you take the status quo approach that most companies take, your pages will continue to fall flat with prospects.
Instead, by following the strategies we've laid out in this post, you can improve your ability to generate high-quality traffic, and actually capture leads from your integrations pages.
If you'd like help implementing this for your B2B SaaS business, schedule a Free SaaS Scale Session today.
What you should do now
Whenever you're ready…here are 4 ways we can help you grow your B2B software or technology business:
Claim your Free Marketing Plan. If you'd like to work with us to turn your website into your best demo and trial acquisition platform, claim your FREE Marketing Plan. One of our growth experts will understand your current demand generation situation, and then suggest practical digital marketing strategies to hit your pipeline targets with certainty and predictability.
If you'd like to learn the exact demand strategies we use for free, go to our blog or visit our resources section, where you can download guides, calculators, and templates we use for our most successful clients.
If you'd like to work with other experts on our team or learn why we have off the charts team member satisfaction score, then see our Careers page.
If you know another marketer who'd enjoy reading this page, share it with them via email, Linkedin, Twitter, or Facebook.