How to get the most out of hiring a SaaS marketing agency (and avoid common pitfalls)
Last updated: September 13th, 2021
A lot of SaaS companies will hire a marketing agency to help them fix their acquisition model or positioning. They think it'll be plain sailing once they find the right agency and that soon they'll be able to reliably scale trials and demos.
But the reality is not always so straightforward. In fact, one of the main points of failure for agencies and clients alike is their onboarding process.
We have found that the first 100 days of any client project are crucial to the short, medium and long term success of their initiative.
This article outlines how we go about onboarding clients and specifically, we'll cover:
What some agencies and clients get wrong about starting a project together
Why the first 100 days of the relationship are so crucial
How our onboarding process ensures success
By the end of this article, you'll have a firm understanding of how to make the most of the first 100 days with a SaaS marketing agency
At Powered By Search, we help B2B SaaS businesses achieve predictable growth through SEO and paid media. To learn more, schedule a Free SaaS Scale Session.
What agencies and clients get wrong about starting a project together
There are a number of ways that an agency client relationship can go wrong. But most of them come down to a failure to communicate effectively and not setting expectations.
In a moment, we'll walk through how we go about ensuring that communication and expectation setting is done effectively – which ultimately makes our clients' business grow more reliably.
But before we do that, let's look at some of the common mistakes SaaS marketing agencies and B2B SaaS companies make when starting a project together.
Wanting and promising results too fast
SaaS founders and executives often come to us having been burned by a previous agency relationship.
Most of the clients we hear from have been attracted to work with us because of our Predictable Growth Methodology and are excited to get major results for their SaaS immediately.
This is a (very understandable) mistake. SaaS marketing agencies will often promise to deliver results within a very short timeframe because they believe clients will only sign on the dotted line when they do.
We frequently find clients expect results much faster than is reasonable.
To illustrate the problem with this: we used to run pilot projects for clients. The goal of these projects was to get quick wins while we focused on scoping out broader strategic projects that we'd run after the pilot phase.
While we were able to deliver short term results, over time our clients found that results delivered during that brief pilot project were diminishing. As you'd expect, this created mistrust from the clients and caused us a lot of issues with retention.
We have long since moved on from that model but most SaaS marketing agencies will still follow a similar structure in their work. The result is disillusionment from clients when short term wins are shallow and/or not achieved at all.
Failure to communicate and understand the context and function of the business
Every business we work with is unique. Even clients within the same market or industry are positioned completely differently and the internal workings and market familiarity of each company is different too.
Clients will often have a unique viewpoint on their business and the challenge ahead of them gained from years of experience and conversations with clients.
And while we're experts in our craft and know how to deliver significant value for our clients, there is not an agency on earth that could divine the insights that it took their clients years to gain.
This means that SaaS businesses need to involve all the right people in their organisation and bring that market intimacy to the project, communicating it with their agency as clearly and exhaustively as possible.
Agencies are able to make guesses about a client's customer, but even with research, they often miss things unless the client explains it clearly.
One of our clients, Rejoiner, is in the ecommerce email marketing industry.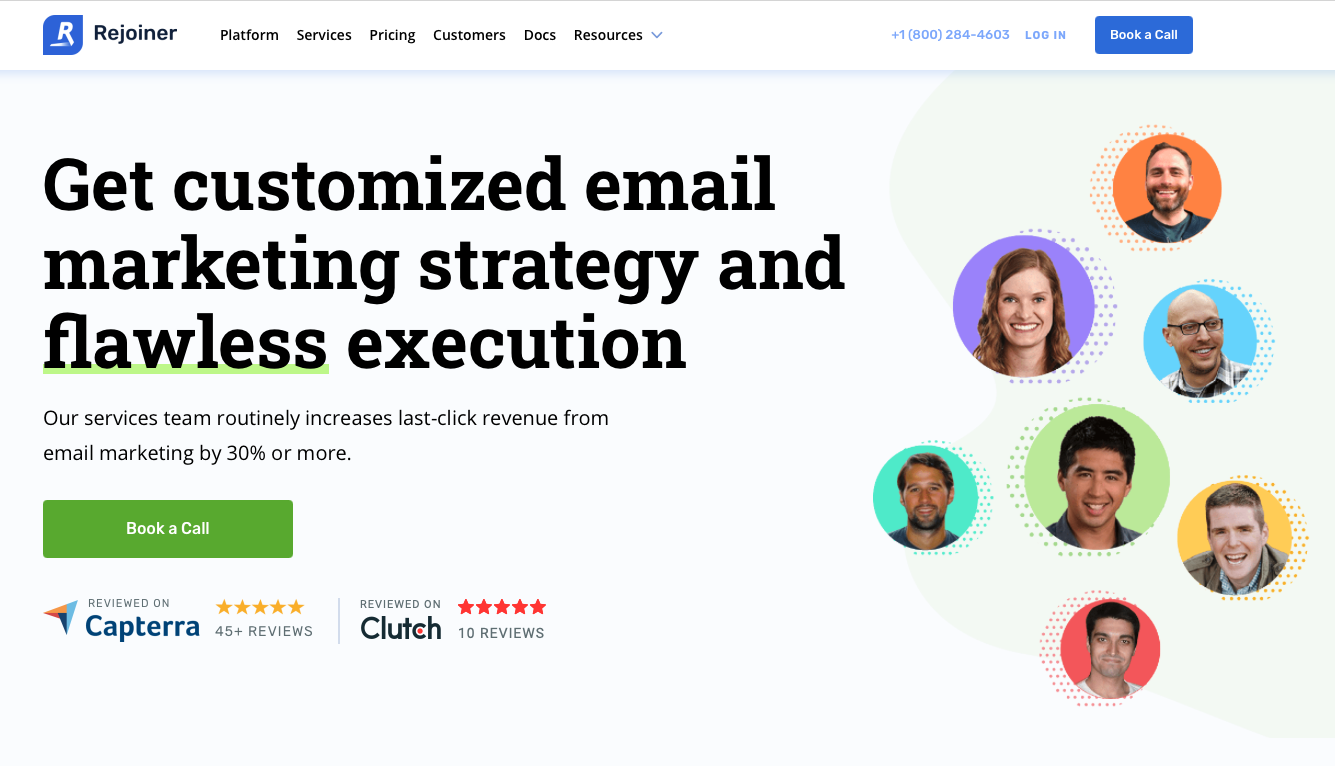 Their product has a huge number of features for managing the email channel at an ecommerce brand. Almost any agency would listen to their list of features and then build a marketing strategy around aligning those features to client pain points.
However, it was only when we asked more searching questions that we discovered the unique insight that our client had was: their customers really love them because they deliver incredible services in support of their tool such as done-for-you email design and lifecycle roadmapping.
Poor communication between management or sales with the clients
The final major failure point is what happens after signing the contract and agreeing the scope of work.
Clients are concerned that they'll buy and then lose the interest of the people who know what strategic goals they're trying to achieve.
And that's totally warranted but most of the time, clients are passed from a sales exec to a team of tactical operators who will deliver SEO or PPC services without any knowledge of the sales conversation.
This is a huge error that agencies make.
B2B SaaS marketing requires a nuanced understanding of a product's customers and agencies need to make sure that everyone working on the project has a clear picture of this and the unique challenges that their client trying to overcome.
Why the first 100 days of the relationship are so crucial
We believe that the first 100 days of a client's engagement with a B2B SaaS marketing agency is where the success or failure of the project is decided.
We've just explored, in some depth, what agencies get wrong about SaaS clients and what SaaS clients miss out when they're working with a new marketing agency.
But before we explain our process for building successful relationships with our clients, let's just pause and dive into why the first 100 days are so important.
When an agency onboards clients, they're setting the tone for the entire relationship and ultimately setting the client up for success or failure. If it's done right clients will ramp up faster (even if it feels slow at first) and hit their goals
Frequently, SaaS companies work with an agency who doesn't do this right, making many of the mistakes we discussed above. These companies end up feeling burned and after 100 days or so will ask: "Did we do the right thing hiring this agency?"
More often than not, this is the fault of the agency for overpromising and underdelivering. Or else, the client's expectations were not challenged or managed by the agency.
The peril here is two way:
On the one hand, agencies who don't onboard clients effectively set themselves up for losing a client after a hundred days or so. And clients – particularly marketing execs within SaaS companies – risk reputational damage because they invested 100 days worth of their budget with little or nothing to show for it.
Now let's take a look at how we help SaaS companies avoid these avoidable, costly mistakes.
How our onboarding process in the way it ensures success
Like a lot of things – actually, almost everything – at Powered by Search, our onboarding is systemised and built up from a holistic perspective.
We create and publish a lot of content including several podcasts about how we do things differently from other SaaS marketers. For example:
This means that by the time a client asks us to work with them to grow their SaaS, they're extremely familiar with our methodology and are already aware of how we deliver results: predictably and steadily, not erratically or quickly.
Client enrolment to delivery teams
The onboarding process itself starts with the 'hand off' from the client engagement team to our consultants
Note: earlier we talked about sales hand off being a point of failure for many client-agency relationships. We treat this differently by keeping our structure relatively flat: a client may hear from anyone in the company – from the newest hire or the CEO – on a strategic question. 
During the engagement process, we record all our calls with the client. That means that our consultants – who deliver the day-to-day work – are able to watch and learn everything that the client has told the sales team.
This is very unusual – most agencies don't record their calls or give briefings to the delivery teams before starting a project. But because we do this, we ensure that on day 1 of a new project, expectations internally and externally are aligned.
From there, we create a one page strategy brief as a central source of truth for everyone on the team and on the client's team. This explains goals, projects and the core levers we'll pull to make the client successful.
Where most agencies will use a client meet & greet as an opportunity to do just that, our meet & greets also include a presentation of the roadmap for the coming quarter. That's because while it's great to see friendly faces – we're very biased towards action.
We like to work from Basecamp rather than other tools like Slack. Using Basecamp means that our team can focus on doing good work for clients rather than responding in real time to a series of 'pings'.
But also: having our client in Basecamp with us increases the transparency of the relationship greatly, and fosters collaboration between client-agency.
Finally, as early as possible, we set up a meeting with the client where we align on the goals of the first 30/60/100 days. This addresses a number of the problems that other agencies have with the first 100 days such as: misaligned expectations, overpromising and also meeting the whole team.
Discovery – First 30 days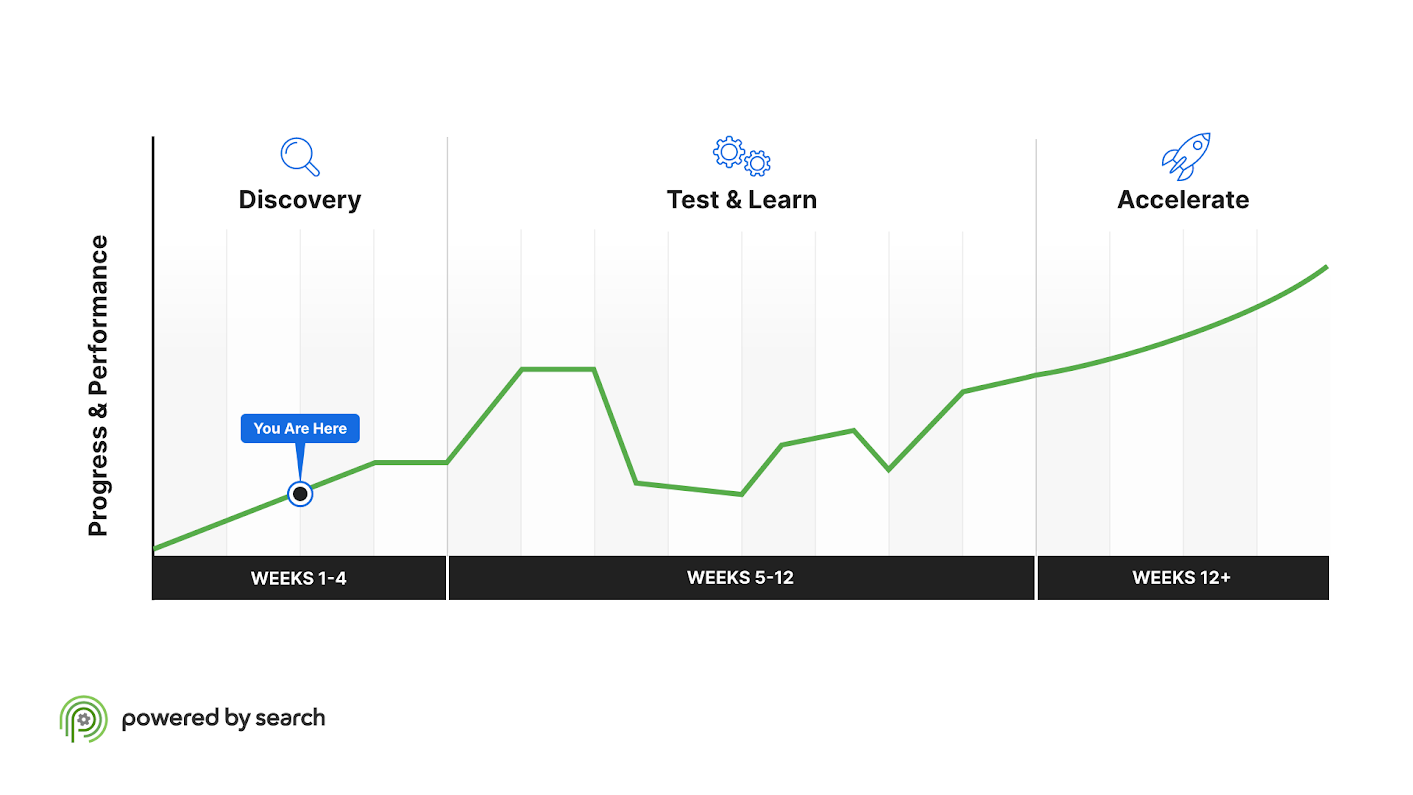 Clients are usually really excited about getting started with us.
But the first 30 days of an engagement with Powered by Search can feel a little… quiet.
Note: We think about results very differently to most agencies. For us, there's a relationship and pacing process. Then there's also the KPI results. In the first 30 days we're building a strong relationship and carrying out the other activities in the upcoming section. But we don't believe in 'the big reveal' – our process is very collaborative which means results, in a sense, happen from day one where our relationship begins to strengthen.
During the first month or so, we're deeply focused on understanding the context of the client's SaaS and customer. It's very unlikely that our clients see any results at all during the first 30 days – we're too focused on the laying the framework for the strategy.
That doesn't mean nothing is happening though.
In fact, during this period we're working on a number of things:
Running through our pre-flight checklist – makes sure we know things like 'What are the key metrics?', 'Do we have access to your CRM?'
Internal sync up to make sure that everyone on the team knows what they're doing and due to deliver for the client
Director's check in with the client to ensure they're staying on track with the deliverables we've asked for from them (operational things such as access to tools and accounts, for example)
Collaborative workshops like the SaaS positioning canvas happen at this stage too – clear and crisp positioning is crucial to the overall success of any SaaS marketing project
Additionally, while the KPIs aren't usually moving up and to the right until the end of the first 60 days (because the execution work is so extensive), we get started on account diagnostics such as PPC and SEO audits in the first few weeks of an engagement.
Test & Learn – Day 30-60
After the first 30 days of discovery is done, we're usually ready to move onto the next phase of an engagement: running small, measured tests of our growth strategy.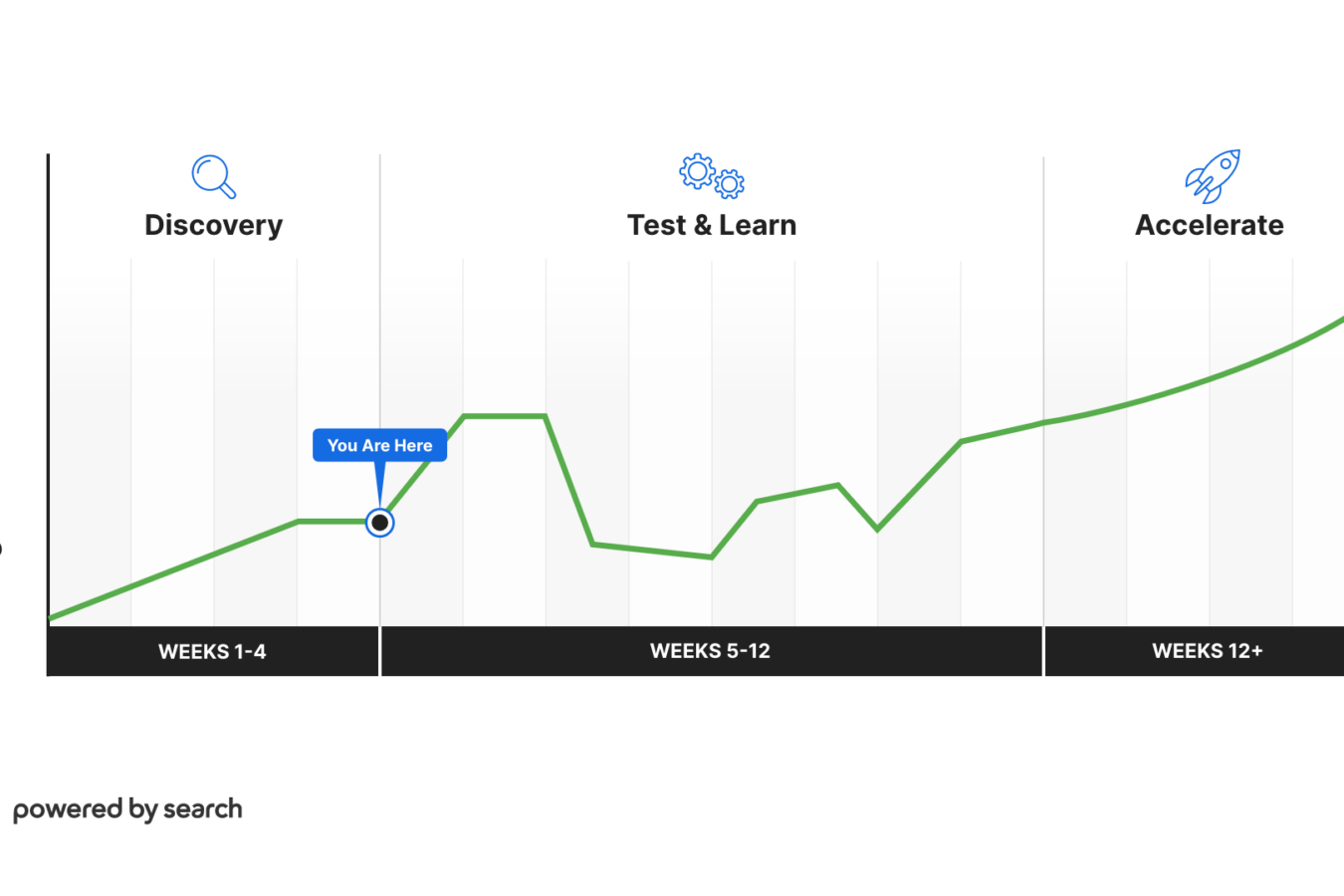 During this period, all the relevant teams (demand gen; SEO; and paid media) will begin to run through our playbooks.
For example, SEO will begin working through our SEO roadmap for early wins which includes activities like:
De-indexing blog posts that aren't thematically related to search intent
Adding internal links to features and benefits pages on relevant blog posts
Creating competitor comparison pages
Adding depth to features and benefits pages
Turning battle cards into blog content
The goal of this phase is to test our assumptions about how to grow demand for our SaaS clients. Between weeks 5-12 we often adjust and retest our strategy if the data says that we should.
In fact, it's not uncommon for performance to go through significant fluctuations during this period. For clients, it can occasionally feel a little confusing but as the weeks progress, the stability and predictability of growth improves.
During this phase, clients will begin to see good results. But the reality is that the client wins we typically see in this phase are the tip of the iceberg.
Once we're sure what is going to work for each individual client, we'll scale the strategy.
Accelerate – Day 60+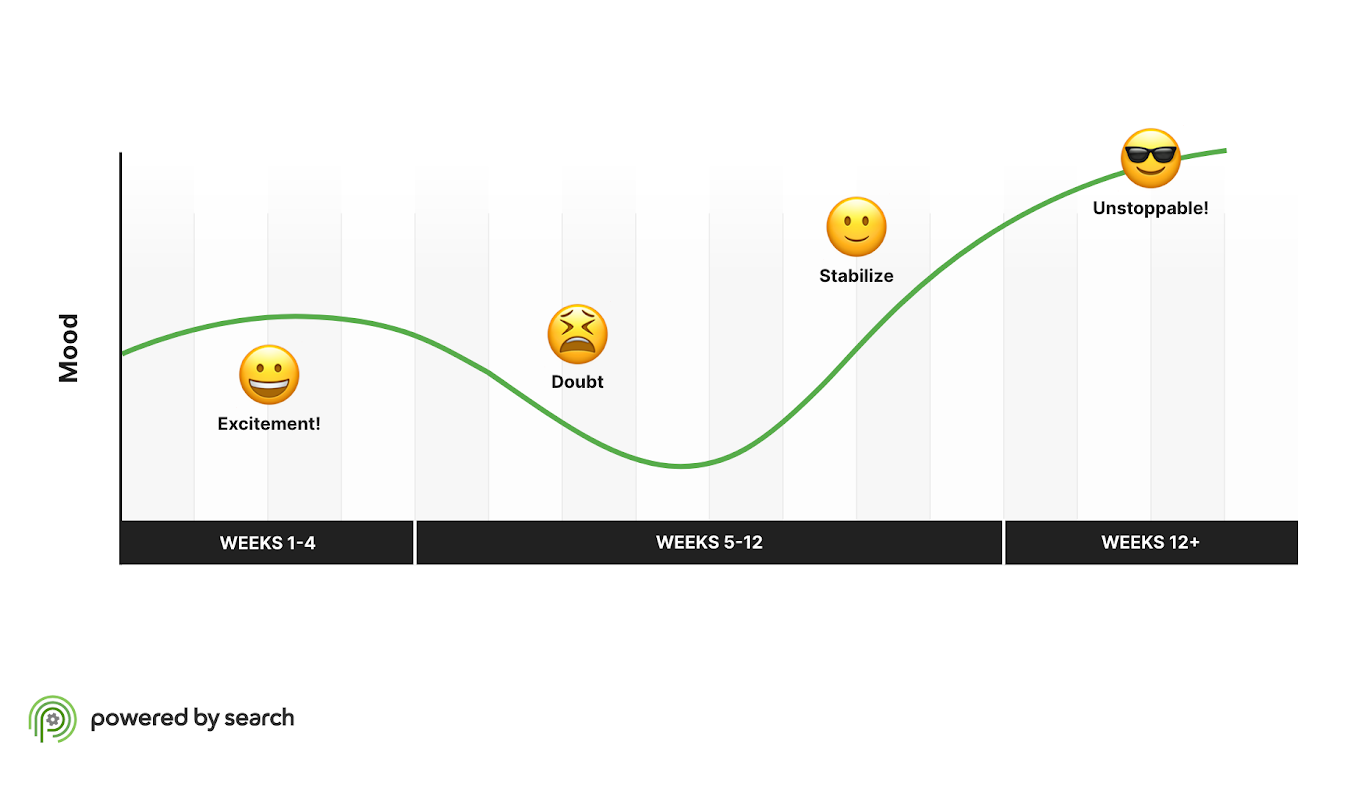 During the discovery and testing phase, we get a clear understanding of what works so that after day 60 – or thereabouts – we scale what works to deliver consistent growth for our SaaS clients.
Clients are typically seeing significant increase in demand driven by our SEO, paid media and demand generation work by this point.
Once that happens, we'll optimize accounts to further increase the growth rate.
In closing
B2B SaaS companies often have bad experience with marketing agencies. More often than not, this is due to:
Expecting results sooner than is realistic and becoming disillusioned
Failure of the agency to communicate with the client and set realistic expectations
Poor hand off between sales and consultants within the agency
Significant failures in onboarding new clients into the agency
We have found that the first 100 days of any client project are crucial to the short, medium and long term success of the relationship.
That's why we invested significant resource into developing a process that avoids the common pitfalls SaaS marketing agencies and clients face so that we deliver predictable growth every time.
If you'd like to learn more about how we help B2B SaaS businesses grow through paid media and SEO, schedule a Free SaaS Scale Session to chat with someone on our team.
What you should do now
Whenever you're ready…here are 4 ways we can help you grow your B2B software or technology business:
Claim your Free SaaS Scale Session. If you'd like to work with us to turn your website into your best demo and trial acquisition platform, claim your FREE SaaS Scale Session. One of our growth experts will understand your current demand generation situation, and then suggest practical digital marketing strategies to double your demo and trial traffic and conversion fast.
If you'd like to learn the exact demand strategies we use for free, go to our blog or visit our resources section, where you can download guides, calculators, and templates we use for our most successful clients.
If you'd like to work with other experts on our team or learn why we have off the charts team member satisfaction score, then see our Careers page.
If you know another marketer who'd enjoy reading this page, share it with them via email, Linkedin, Twitter, or Facebook.